DC's 'Doom Patrol' Casts Former Bond Star Timothy Dalton in Key Role
The cast of DC's Doom Patrol is growing with the addition of former James Bond actor Timothy Dalton.
Playing Dr. Niles "The Chief" Caulder, Dalton will lead the pack of outcasts that make up the Doom Patrol, according to The Hollywood Reporter. Dr. Caulder is described as a medical pioneer who seeks out those on the brink of death who are "in need of a miracle."
Best known for his time in the iconic role of James Bond in the late '80s, Dalton has also had a slew of other roles throughout his career including most recently a part in the former series Penny Dreadful. Prior to Penny Dreadful, Dalton also appeared in the spy comedy series Chuck — a show befitting of his past stint as Bond. Between 2009 and 2010, the actor also played a role in the popular series Doctor Who.
Doom Patrol will be the actor's first TV role since the Showtime series wrapped in 2016.
Dalton joins previously announced stars Dwain Murphy (Negative Man), Brendan Fraser (Robotman), April Bowlby (Elasti-Woman), and Diane Geurrero (Crazy Jane) who will all portray the band of misfit superheros. Alan Tudyk is also set to appear in the series as the villainous Mr. Nobody.
Written and executive produced by Supernatural's Jeremy Carver alongside Greg Berlanti, the 13-episode drama is set for a 2019 debut on DC's upcoming streaming platform.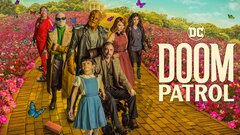 Powered by