'The Magicians' Cast on Season 4's Fresh Start and Alice's Guilt (VIDEO)
With Season 4 coming up in 2019, Syfy's The Magicians has a lot in store for devoted fans… namely an insane memory-swipe that results in nearly all of the main characters becoming new, ordinary folks leading non-magic lives.
Cast members Olivia Taylor Dudley, Hale Appleman, and Summer Bishil stopped by the TV Guide Magazine and TV Insider suite at San Diego Comic-Con to give us the full scoop on what's next.
See Also
Julia's leveling-up big-time and Q has a hero move up his sleeve.
Bishil discusses her new role as Janet (a nod to the Lev Grossman book series The Magicians is based on) and working with Trevor Einhorn (Josh) in the show's reset, while Appleman chats about going super creepy and evil (we last saw him taunting Jason Ralph's Quentin/Brian in the season finale).
As for Dudley, her character Alice is the only one that hasn't forgotten about the world of magic or become a vessel for something wicked. But that doesn't mean she's completely unscathed — Alice is still being detained in the library, after all.
"She's dealing with a lot of guilt this season," Dudley explains. "I think she was trying to do what was best for everybody, but it definitely backfired." It sure did. But can she save her friends? For the sake of anyone who has to face the monster's shiver-inducing question, 'Will you play with me?', we sure hope so.
Watch the full video below.
The Magicians, Season 4, 2019, Syfy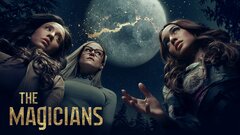 Powered by