The Last 3 Shows to Get the Post-Super Bowl Timeslot Ended Up with a Decline in Viewership The last three shows to air after the Super Bowl — The Blacklist, New Girl and Elementary — all got a huge ratings bump after the big game, but those viewers didn't stick around as all three suffered slight but respective declines of 5%, 7% and 2%. In fact, only three post-Super Bowl shows have had a double-digit increase in viewership over the past 10 years (Grey's Anatomy, The Office and Criminal Minds). PLUS: 10 TV shows you probably forgot aired after the Super Bowl.
Skupin, who was medically evacuated from Survivor: The Australian Outback and later competed on Survivor: Philippines, has been charged with six counts of possession of child pornography after authorities say they found the illegal material on his computer.
Deadline reports that Gellar has been approached about reviving her Kathryn Merteuil role for the sequel series pilot.
With 16 cast members, is there really no one qualified or interested in taking over Donald Trump, Bernie Sanders and Sarah Palin? So asks Michael Slezak, who's concerned SNL is relying too much on Tina Fey, Larry David and Darrell Hammond's famous impressions. "Isn't it more than a little troubling that it takes outside blood to give SNL's political satire a pulse nowadays?" he asks, adding: "Think about it: If Palin makes another bombshell speech or Sanders scores a key win (or loss) on the primary trail — and Fey or David are too busy to moonlight in Studio 8H — then SNL has to take a pass on satirizing the moment."
"There's risk in life. There's risk in sitting on the couch," Commissioner Roger Goodell said in a press conference answer that was greeted with mockery on Twitter.
The NBC police drama has performed well since debuting last month.
Turns out one of the Showtime series' co-creators used to be Metallica's A&R guy.
Will the next president carry on the tradition of appearing on the pregame show?
Mars, who performed at the Super Bowl two years ago, had been rumored addition to Coldplay's set for quite some time.
Coldplay's British predecessors include Phil Collins in 2000 and Paul McCartney in 2005.
Colbert isn't actively seeking his own Andy Richter, but he's finding new ways to "play with" other people on stage, particularly his longtime pal Paul Dinello, a Late Show supervising producer who sits on Colbert's couch each week for Friday Night Fights.
Sigler blames her MS for her inability to run. "I can't run," she says. "It's so hard for me. I'm not trying to sensationalize this at all, but the very last time I can remember running was the final scene of The Sopranos. That's literally the last time I can ever remember feeling that freedom in my body."
Why not have a Super Bowl red carpet? (Although Fox tried something like that with Ryan Seacrest.)
Adult film actress Danica Dillon had sued the former 19 Kids and Counting star for $500,000, claiming he assaulted during a consensual sexual encounter. PLUS: Amy Duggar hires an agent to build a post-scandal showbiz career.
Inspired by Australia's George Costanza-themed bar, a Toronto man plans to open his own version of Monk's Diner. PLUS: Why the Costanza bar is a slap in the face to Seinfeld fans.
The Tony-winning singer will play Dr. Everett Scott.
Watch a preview from Corden's special post-Super Bowl Late Late Show. PLUS: Inside the making of Corden's "Carpool Karaoke."
Here's how the company responsible for reshaping the music and smartphone industries blew it when it came to TV.
Stephen Bochco's much-derided 1990 ABC musical cop show is due out on DVD in May. PLUS: Why isn't Northern Exposure available for streaming?
He'll romance Yunjin Kim as part of a recurring Season 4 role.
The producer behind American Horror Story and American Crime Story was a superfan of the great TV miniseries of the '70s. "I had viewing parties for them when I was a child, which is insane, but I did," he tells Vulture. "I really, really loved them. To me they felt very exciting, like movie stars were coming to the small screen. It was like a jolt of adrenaline." PLUS: Are limited series rewriting the rules of TV drama?
The 87-year-old West rolled his eyes at Kaley Cuoco.
Parker says of Darren Star's comments: "I don't think of it as someone diminishing herself by letting a man marry her—it always felt that she had arrived at that on her own."
The Enforcers follows two single moms who are detective partners in the Code Enforcement Department, while the interracial family comedy pilot revolves around a black former NFL lineman and his white wife. PLUS: CBS orders its second medical drama pilot, Ridley Scott's Sensory.
Why TCM is the perfect companion for Valentine's Day.
Kimmel got hooked on fly-fishing nine years ago thanks to his good pal Huey Lewis.
The Showtime documentary, premiering this weekend, is like a "deluxe extended episode of a television music-biography series like Unsung (or Behind the Music' minus the scandals)," according to The NY Times.
The Charlie Manson TV movie includes the children of Kelsey Grammer, James Brolin and Michael Madsen.
The Duplass brothers animated comedy about NYC's animals has unexceptional animation and banal dialogue. PLUS: It feels like it would've been relevant a few years ago, and it's a funny gimmick but not much more than that.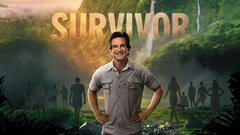 Powered by