TV News Roundup: Mary J. Blige on 'Scream', 'SNL' Cast Exit, Kenya Barris' Netflix Deal & More
All Your Must-Know Thursday TV News:
Mary J. Blige Joining MTV is Worth Screaming Over
Oscar-nominated actress, Mary J. Blige has been cast in Season 3 of MTV's TV adaptation of Scream. According to The Hollywood Reporter, Blige will play lead character Deion Elliot's (RJ Cyler) mother, Sherry. The series is expected to return later this year after a nearly two-year hiatus, and will take a new direction from Seasons 1 and 2. Instead, we'll be seeing a new set of new characters in an anthology format. Also starring in Season 3 are Keke Palmer, Tyler Posey, and Tyga, among others.
Kenya's Big Deal
Just weeks after his exit from ABC, Kenya Barris' multi-year Netflix deal for original content has been revealed. The black-ish creator released the following statement about the deal.
"When my agents reached out to me about this little garage start-up called Netflix, I wasn't sure what to think. But after I talked to Ted [Sarandos] and Cindy [Holland], I started to believe that maybe this mom-and-pop shop with only 130 million subscribers might just be something… so I decided to take a swing… a leap of faith if you will, and take a chance with the new kids on the block."
Busy's Getting Busy Tonight With a New Talk Show
E! has set a premiere date for actress Busy Philipps' new late-night talk show, Deadline reports. The series, titled Busy Tonight, will debut Sunday, October 28 and run Sunday through Wednesday with half-hour episodes. Watch What Happens Live's Cassie St. Onge will serve as the showrunner. The series will delve into Phillips' opinions on trending pop culture stories. It'll also include interviews with celebrity guests and some comedy segments.
Michael Che & Colin Jost Are Emmys Ready
In the first promo for this year's Emmys, Saturday Night Live's Michael Che and Colin Jost joke about getting political, and promise the biggest stars for the highly-anticipated night. Check out the video above.
Luke Null: Live From New York No Longer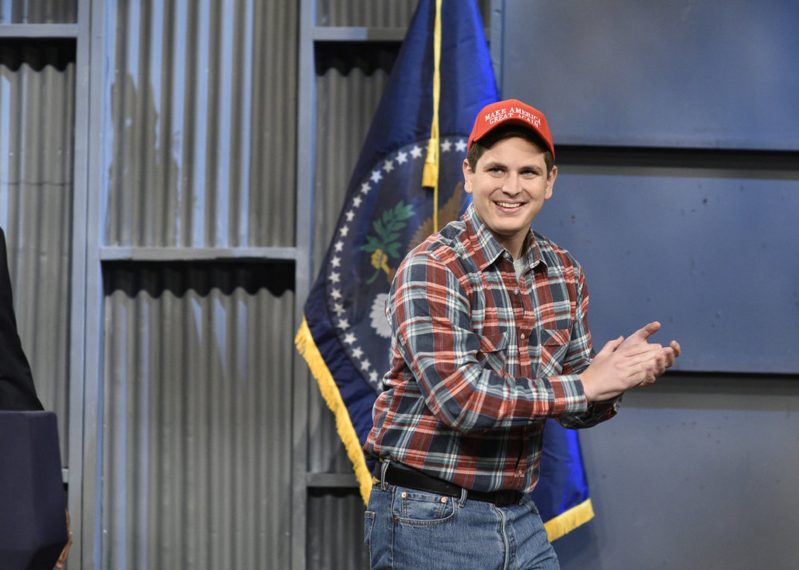 Saturday Night Live Season 43 cast member Luke Null will not appear in the upcoming season. Null, who only took part in one season, is originally from Chicago. Vulture broke the news about his surprising exit.