Ruth Wilson 'Not Allowed to Talk About Why' She Left 'The Affair' (VIDEO)
The mystery surrounding Ruth Wilson's departure from the Showtime series The Affair deepens.
In an interview with Gayle King and co. on CBS This Morning, the actress declined to talk about why she left the show, which was just renewed for a fifth and final season.
"I did want to leave but I'm not allowed to talk about why," she said when probed, which took King off guard.
See Also
The penultimate episode provided the story told from Alison's perspective... twice.
King then brought up the rumors that there was an issue with pay — that her male co-star Dominic West was paid more, even though she won a Golden Globe win for Lead Actress in a Drama in 2015.
Wilson said, "I've never complained to Showtime about pay parity."
Her character, Alison Bailey, was killed off on the show in an episode that left fans shocked, mainly because the circumstances around Alison's death are vague at best — was it suicide or murder?
Fans were told the story of her death in last Sunday's episode. In the first part, viewers are led to believe Alison did commit suicide by drowning herself in the ocean, but in the second part, it was revealed her new boyfriend, Ben (Ramon Rodriguez) — a recovering addict with PTSD — killed her in a fit of rage.
So what does the actress think actually happened to Alison?
"I think it's murder," she said.
But what meant the most to Wilson was the response to the character — "What's been amazing to me is the fan response. It's been really moving for me."
Watch the full interview below:
Since appearing on CBS This Morning, Showtime has released a statement regarding Wilson's departure from the show.
It reads: "We can't speak for Ruth, but heading into season four everyone agreed the character's story had run its course," Showtime said in a statement to Deadline. "Ultimately, it felt like the most powerful creative decision would be to end Alison's arc at the moment when she had finally achieved self-empowerment.
"The impact of her loss will be felt as the series concludes next season. We thank the many fans who embraced the character of Alison and especially thank Ruth for her indelible work over the past four seasons."
The Affair, Season 4 Finale, Sunday, August 19, 9/8c, Showtime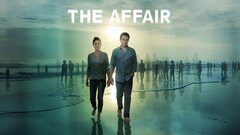 Powered by