Meredith Will Find Love on 'Grey's Anatomy' Season 15 — But With Who?
While the doctors of Grey Sloan Memorial Hospital are busy healing patients, the writers of Grey's Anatomy are busy mending hearts as they prepare to bring romance back into their leading lady's life.
According to showrunner Krista Vernoff, Meredith (Ellen Pompeo) will find love in Season 15 — despite recent buzz to the contrary. Vernoff built upon what ABC Entertainment President Channing Dungey said about this season being one focused on love at TCAs. "Channing was keeping it mellow and trying to avoid spoilers because Shondaland is secrecy land," she tells TV Line,. "But as the showrunner, I can confirm for you that Meredith Grey is very much a part of our Season of Love."
The showrunner further elaborated, "Yes, [Meredith]'s a single mom, and that complicates a dating life. And yes, she's a surgical marvel with new, game changing medical ideas she'll be pursuing. But she also hasn't dated at all since Nathan Riggs (Martin Henderson) left [in Season 13]. And the one-two punch of meeting Nick Marsh (Scott Speedman) awoke a desire in her that she can't put back to sleep."
Vernoff continued to tease in an even more pointed way, posing a telling question: "The question this season is not 'Will Meredith Grey find love again,' but 'With whom will she find love?'"
We're breaking down some potential candidates to answer that question, scroll down to see who made the list.
The "Ortho God" (Chris Carmack)
So it's a little hard to determine if Meredith will be smitten with Chris Carmack's (Nashville, The O.C.) new character, who doesn't even have an official name. He's known as an "Ortho God," so we know he's an orthopedic surgeon. But beyond that, there's little to determine if he will be the one for the lovelorn Grey. Based on the show's history, new additions tend to intertwine with Meredith, so his chances are good.
Nick Marsh (Scott Speedman)
Fans felt the connection between Meredith and Speedman's character Nick, and now that he's left TNT's Animal Kingdom, the actor could show back up, right? Well, proceed with caution because Vernoff explained that the reason things never went further with the two was because of his short-term guest role. "We all loved him, but Nick was designed as a one-episode guest star, which is the whole reason Scott agreed to come play him!" But we're still holding out hope!
Mystery Man
As Vernoff pointed out above, Shondaland is very secretive, and fans know from experience that Grey's runs on shocking moments. So someone we don't know about yet could also likely be a suitor. We'll just have to wait and see!
Grey's Anatomy, Season 15 Premiere, Thursday, September 27, 8/7c, ABC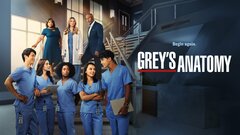 Powered by