Will Eli & Gabi Get Back Together on 'Days of Our Lives'? Lamon Archey Weighs In
Eli (Lamon Archey) and Lani (Sal Stowers) will never get over the loss of their son.
And Wednesday's episode of Days of Our Lives is a painful reminder of that. Viewers will see the heartbreaking moment when Lani presents to Eli little David Abraham's death certificate.
Read on as Archey shares his thoughts on this emotional storyline, his real-life love life (sorry, ladies — he's off the market!), and which Salem citizen he'd like to see come back from the dead!
See Also
Plus, the actress talks about meeting her TV mom Marilyn McCoo!
When did you find out the baby wasn't going to make it?
Lamon Archey: Sal and I were both wondering where they were going to go with this story. I think we found out about two weeks before we shot it. I wasn't sure what direction they were going to take it, but I thought Sal did a great job. The story really pulled at everyone's heart strings.
Did you get to work with the baby in any fantasy scenes?
No, but I saw the baby used in those scenes. That helped me, as Eli, to feel how it would be to be this new father and the excitement he'd be feeling. When I saw that baby I almost started crying myself. There's so much going on in that span of time when we shot those scenes. It brought up emotions for me. I'm a dad [of three children] in real-life.
I was talking to Albert Alarr [co-executive producer] about some of the scripts saying, "Eli is broken down" or "Eli is in tears" – I had to take into consideration that Eli was, at one point, ready to let another man (JJ, played by Casey Moss) raise this child. At one point, he didn't want anything to do with Lani; he wanted to be with Gabi (Camila Banus). I couldn't act like that never happened. I kept that as part of his journey. I felt like a father doesn't really fully connect with his child until he or she is born. With a woman, the child's growing inside her.
There was a weird theory online, briefly, that speculated the baby might really be alive because Eli's mom, Valerie (Vanessa Williams), was left alone in Lani's hospital room while she was still under.
No. There was no motive for that. The baby's passed.
The writers naming the baby 'David Abraham' after your fathers was a nice touch. And, today, Lani brings Eli the death certificate.
Yes. It was all about tapping into the characters and going through deep emotional feelings for this child.
'What if' can be a dangerous game, but do you feel that Eli could have stepped away and let JJ raise his son?
I think Eli would have stepped up. He couldn't have seen his child and let another man raise him. When they first talked about that, Lani wasn't even showing. There was nothing in front of him that said I'm getting ready to be a dad except for words.
See Also
The focus might be on the 2018 primetime awards right now, but we already have our picks for 2019's soap set.
Gabi's out of jail now. Is there a door open down the line for her and Eli to get back together?
There's always a possibility, but I think both of them have been through some serious stuff these past several months. The wounds are still fresh. She has a whole other world going on, having gotten out of jail. I don't see them rekindling anytime soon.
In real-life, your love life is doing much better. When did you and your fiancé, Mercedes Cornett, get engaged?
We've actually been engaged for nine years. It was always like, 'Let's do it next year,' but now we are planning on next year. I think after ten years of living together it's legal but I'm not sure. We're thinking of next February and keeping it small. We'll do the wedding and reception on the same day.
What's it like working with Bill and Susan Hayes (Doug and Julie)?
Anytime I see that I'm working with either of them I'm always excited. They're fun to be around and they not only make me feel at home, but a part of the DAYS family.
Have you ever met Gregg Marx? He was the last actor to play your TV dad, David Banning, who died in a car accident…off-camera.
No, but I think it would be kind of cool if somehow David were brought back. I think that would be a good story. It could be done.
Days of Our Lives, weekdays, NBC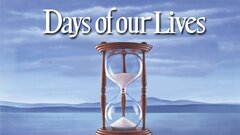 Powered by