'Lodge 49' Star Wyatt Russell on His Offbeat Summer Series & If His Parents Will Make a Cameo
Lodge 49's Wyatt Russell has a few words of advice regarding his new show: "You have to go in with an open mind and just let it happen."
That's because the AMC drama features a distinctly offbeat tone and a free-spirited character at its center. Russell (Everybody Wants Some!!, Black Mirror) plays Sean "Dud" Dudley, a down-on-his-luck Long Beach, California, ex surfer looking to join a fraternal order known as the Lynx.
Below, the star shares more.
At the start of the show, Dud's father has just died, and he's in dire straits financially. Yet he's always smiling. Why?
Wyatt Russell: Dud constantly fights for optimism at the risk of being delusional. He sees the magic in everything, so he needs to believe the next door that opens will lead to the promised land. If that room isn't great, there will be other doors to open. He'll never be stagnant.
There's a blissed-out summer vibe to Lodge 49. How would you describe it?
It's definitely unique. It's sort of a modern-day fable about the kingdom of Long Beach and the people in it. Even though there is darkness in terms of death, we focus on lightness and how death can propel life in a humorous, uplifting way.
The show also reminds viewers that broken things shouldn't be thrown away.
That's it! Appreciating the things that are broken and bringing those things back to life and moving forward is an important aspect of the show.
Your parents, Goldie Hawn and Kurt Russell, haven't done much episodic TV. Could this inspire them to take on the grind?
When they were younger, long-form TV was different. It didn't require the kind of acting they were interested in. But I think if something great came along, they would do it.
Maybe they could start by guest starring on Lodge 49?
[Laughs] I doubt it!
Check out an exclusive clip from the premiere below:
Lodge 49, Series Premiere, Monday, August 6, 10/9c, AMC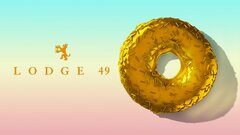 Powered by