'The 100' Showrunner Answers Our Qs: Kane's Fate? Bellamy & Echo? Redemption for Octavia?
From the Wonkru-dividing fall of its Red Queen to the possible rise of a new relationship, The CW's apocalyptic hit The 100 stunning Season 5 sent us running to showrunner Jason Rothenberg for more info.
Let the grilling begin!
See Also
Bob Morley and Eliza Taylor give us the scoop. Plus, an exclusive sneak peek at this week's episode!
Since Henry Ian Cusick was cast in Fox's fall drama The Passage, is Kane doomed?
"People will have to wait for [next year] to see what happens to Kane," teases the executive producer before confirming that fans of Abby's (Paige Turco) stoic beau should have hope. "He is coming back for Season 6."
Can Octavia (Marie Avgeropoulos) be redeemed after killing so many people as the Red Queen?
"The question is, can she realize the dark path she traveled and can she get her soul back? Or is she permanently damaged by what she was forced to do in that six-year period to keep her people together?" says Rothenberg of the Wonkru leader responsible for more than 300 lost lives in the bunker.
What's the deal with Bellarke?
Even though confidants Bellamy (Bob Morley) and Clarke (Eliza Taylor) have been at odds most of the season, their sparks are undeniable. Still, "emotionally they're in very different places," says Rothenberg. "He is with [sister Octavia's sworn enemy] Echo [Tasya Teles], and that's a real thing, not just a flash in the pan."
Can everyone forgive Clarke for betraying them to ruthless Diyoza (Ivana Milicevic) to protect young Madi (Lola Flanery)?
Yes, Rothenberg replies, noting that Clarke's shifting loyalties and battles—all to keep Madi from being implanted with the cybernetic Flame that, in the end, did turn the girl into a Commander—came from a place of love. "Clarke is a bit all over the place, following her heart and doing things impulsively, as we often do when our children's safety is involved," he says. "Losing Madi to the Flame is her worst nightmare. And Bellamy is the person she blames."
See Also
The casts of 'Lucifer,' 'The 100,' 'The Magicians,' 'Gotham,' and more gave us the scoop!
Was Diyoza's pregnancy always part of the plan?
Nope, but Milicevic's real-life baby news definitely bumped up the writers' creativity. "We found out she was pregnant two days after we cast her" as the United Liberation Army terrorist, Rothenberg says. "I knew instantly there was no way we were letting her go as long as she was up for it." Plus, he notes, the twist fit "in the sense that The 100 is about rebirth [and] second chances."
Was that really Milicevic in Episode 9's huge fight with cold-blooded McCreary (William Miller) and his minions?
Turns out the actress is as fierce as her character. "I think Ivana would say she is very, very proud of that scene," raves Rothenberg. "I love that we have a pregnant woman beating the s**t out of five huge guys!"
For more exclusive content from your favorite shows like The 100, Supergirl, and more, pick up TV Guide Magazine's Special Comic-Con Issue, on sale now. It's an all-access SUPERFAN guide with 88 pages of behind-the scenes photos, scoops, and interviews .

The 100, Tuesdays, 8/7c, The CW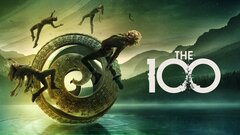 The 100
where to stream
Powered by