'Riverdale' Season 3 Panel Scoop: Bughead & Other 'Ships, Archie's Trial & More Deaths?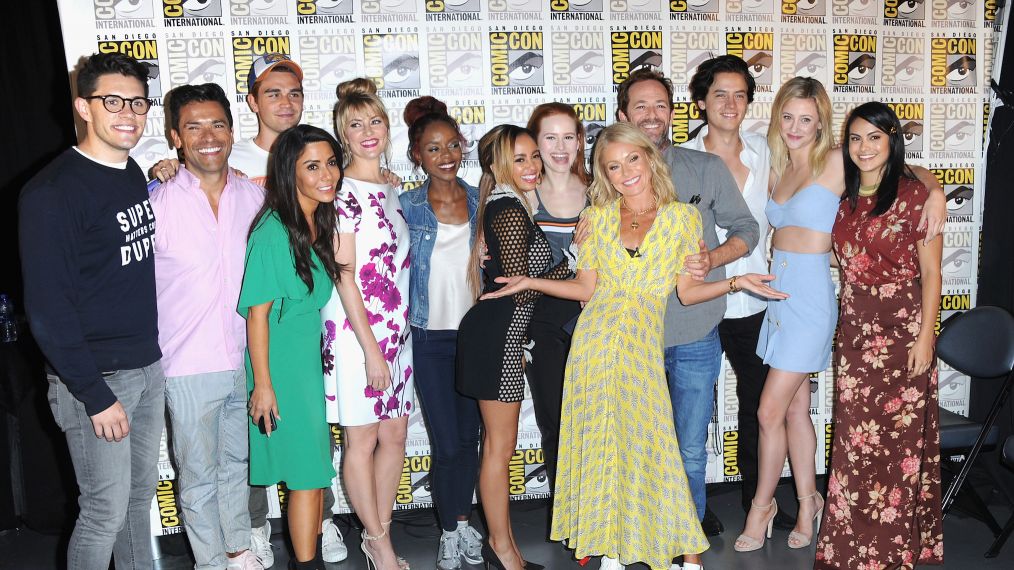 Kelly Ripa (Live With Kelly and Ryan) is a big Riverdale devotee (we hear she's crushing on one of the cast members) so she was a perfect choice to moderate the show's panel at Comic-Con 2018 earlier today.
Post-panel, The CW announced that Penelope Ann Miller (Awakenings) will play the part of Ms. Wright, the district attorney who will prosecute Archie (K.J. Apa) for murder!
Read on for some panel dish and story projection that viewers can start to see unfold when Riverdale returns for Season 3 on Wednesday, October 8 at 8 p.m.
See Also
Is the Black Hood storyline over? What about Archie in jail? And what's next for Cheryl the Serpent?
Showrunner Roberto Aguirre-Sacasa on the characters spending more time in school as it is their junior year: "We've got this great high school set and one of the things we talked about in the writers' room when we started is how important junior year in high school can be. We're going to try to infuse a lot more high school stuff — still with all the crime, drama and mystery — but we'll be talking about SATs, advisors, college, and all that stuff."
Marisol Nichols on how Hermione will use her power as mayor this season: "I think Hermione is happy to have a little power of her own. She'll use it to kind of change the way her marriage has been for the last season. I'm really looking forward to that and getting back to that mother/daughter bond."
Mark Consuelos on what crime Hiram would commit next if he could? "He's pretty much bought everything. He's going to focus on being a thorn in his daughter's side. They're going to butt heads. He knows Hermione is gunning for him."
K.J. Apa on Archie facing a murder charges for killing Cassidy Bullock: "Season 3 starts out with Archie on trial for Cassidy's murder. We'll see if he's going to go away or not. I think if Archie goes away the distance on his and Veronica's relationship would be tough."
Apa on "Harchie" – the "pairing" of Hiram and Archie? "Ever since I was in that headlock sniffing [Mark's] bicep… I hope we do more wrestling, I really enjoyed that."
Camila Mendes on if Veronica's power base will expand in Season 3: "I think so. I think Veronica's going to be an entrepreneur in Season 3 – on top of being a high school student. We're seeing sides to her we've never seen before. She needs to make her own money. This is a side of her that will show she's not a spoiled rich girl."
Lili Reinhart on how Betty will continue to react to her father being the Black Hood? "We start Season 3 three months after Season 2 left off. They've gone through their summer and are ready to go back to school. Betty spent her summer doing an internship. You see her doing everything she can in her power to not think about her dad."
Reinhart and Cole Sprouse (Jughead) on "Bughead": "Right now, I think they're rock solid; they're the investigative duo they were in season 1," says Reinhart. "It's looking pretty solid," concurs Cole Sprouse.
Casey Cott on if Kevin and Moose (Cody Kearsley) are now a thing/couple? "I think making out in the bathroom cemented us as a 'thing.' We're trying to push Moose in the right direction [in terms of him being out]."
Aguirre-Sacasa on romance for Reggie (Charles Melton): "There will be an unlikely romance for Reggie starting in Episode 3. He starts working at Veronica's speakeasy."
Jon Goldwater, Co-CEO of Archie Comics, on taking characters that are decades old and making them modern and topical: "In 2013, we put out this comic book called Afterlife with Archie, written by Roberto Aguirre-Sacasa. In the third book, Archie was bashing in the skull of his zombie father."
Apa and Sprouse on which super-heroes would play their characters? "Spider-man; Tom Holland is a legend," raves Apa. "Dwayne 'The Rock' Johnson as The Incredible Hulk as Jughead," says Sprouse.
Lili Reinhart (Betty) on how "Bughead" will change if she doesn't join the Serpents: "Well, she's the Serpent queen now and at the beginning of the season, you see her earn that title."
See Also
Plus, stars from 'The Magicians,' 'Preacher,' and more.
Sprouse on dressing up in costume at Comic-Con: "Yeah, I'm Dylan Sprouse today."
Madelaine Petsch on what she'd like to see happen for Cheryl this season? "Let's see Cheryl be happy! What do you think, Roberto?" "I think we can make that happen, but there will be conflict," says Aguirre-Sacasa.
Aguirre-Sacasa on if we'll ever seen a flashback episode showing the parental characters were teenagers? "We are planning to do that. We wanted to do that in season 1—have the kids play the grownups in flashback. I think we're going to do it pretty early in Season 3. There will also definitely be another musical episode."
Luke Perry (Fred) on if any character will be killed off this season: "I think only Roberto knows the answer to that, but my instinct tells me that this is Riverdale – people are going down!"
Riverdale, Season 3 Premiere, Wednesday, October 10, 8/7c, The CW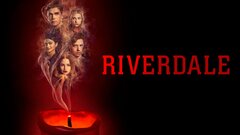 Powered by