'Brooklyn Nine-Nine' Comic-Con Panel: Diversity, Terry's #MeToo Moment & More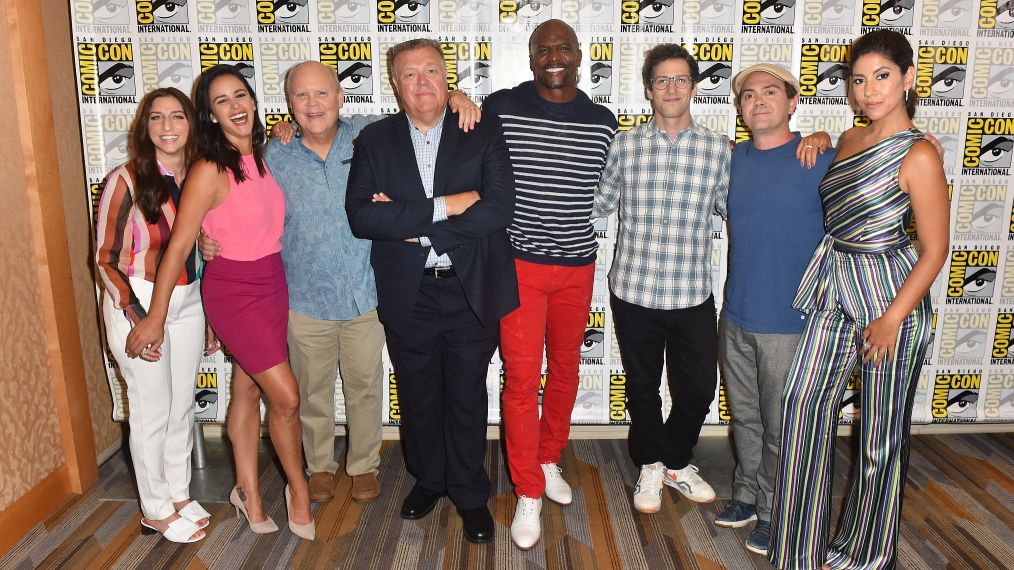 "Nine-Nine!" The Brooklyn Nine-Nine team is back and gearing up for Season 6 on NBC!
The show kicked things off at this year's San Diego Comic-Con 2018, where most of the cast and showrunners attended a panel held in the Hilton Bayfront's Indigo Room. Stars Andy Samberg, Melissa Fumero, Stephanie Beatriz, Joe Lo Truglio, Terry Crews, Chelsea Peretti, Dirk Blocker, and Joel McKinnon Miller, were all in attendance for the event with show creators Luke Del Tredici and Dan Goor.
Sadly for fans, Captain Holt's Andre Braugher wasn't there to join in the fanfare, but Samberg did pass along a sarcastic remark from his MIA co-star, saying, "He couldn't care less."
Fans greeted the beloved cast enthusiastically, which eventually quickly kicked off discussion of the elephant in the room — the series' Fox cancellation and quick NBC pickup.
"I was the first one to get word — cool brag — that we were canceled," producer Dan Goor said of the drama with Fox. While fans were fuming over the news, it didn't take long for NBC to scoop up the show — mere hours actually.
But how did it all come together? Goor revealed the story behind Nine-Nine's NBC pick-up saying, "It was like 7:30 or so, and I had been madly texting with Andy [Samberg], and sending crazy ideas for ways in which we could convince NBC to pick us up."
"And then, David Miner, who's a producer on the show was like, 'hey, go to sleep, man. On the East coast everyone's asleep — nothing's gonna happen.' Joke's on him, half an hour later I get a text that says, NBC said yes."
The panel also revealed that the show is five weeks into pre-production on the sixth season, which is slated for a midseason release. "The writers' room is up and we are five weeks into our preproduction,"Goor said, according to The Hollywood Reporter. "We've got a bunch of scripts; we've got a bunch of stories; it's going to be good."
Episodes will reportedly feature Jake (Samberg) and Amy's (Fumero) newlywed lifestyle after Season 5's finale wedding. Meanwhile, they also teased that next season will feature an episode solely focused on Hitchock (Blocker) and Scully (Miller) and "we might see them in their past at some point," Goor hinted.
Most of the panel was fun and games — a lengthy "title of your sex tape" conversation being among them — but the group did address some of the more serious aspects of the show, as well. Stephanie Beatriz's character, Rosa, came out as bi-sexual on the show last season — Jane the Virgin star, Gina Rodriguez guest-starred as one of her love interests. Beatriz also happens to be bisexual, making the LGBTQ+ representation all the more meaningful.
"Dan [Goor] is a person who believes in equality and inclusivity, and that shows in his writers' room," Beatriz said on the topic. "He wanted a bisexual person's voice to be heard in that storyline, and it just so happened that the person who's playing the character they wanted to turn bi is also bi. It was a gift, and I think we did it in an amazing way."
Also, when asked by a fan about how mental illness is tackled on the show, Samberg said that it's important to treat those storylines with respect. "Anytime we tackle something that is tricky like that… it has to be the right story so we are walking the line correctly and it doesn't come across as us making a joke about it and giving it proper respect," he explained.
"That's why episodes like Rosa deciding to come out or the episode 'Moo Moo' where Terry is racially profiled in his own neighborhood, those episodes take a lot longer because if you f**k it up it's bad"
As more fan questions flooded in from the audience, one thanked Terry Crews for coming forward about being assaulted by a fellow industry member and being part of the #MeToo movement. Another woman also came to the microphone, saying, "Thank you to Stephanie and Melissa because it just means so much to me that I get to see not only one, but two beautiful and strong Latinas being represented on the show."
Catch some of the highlights in the video below, and get pumped for Nine-Nine's Season 6 return on its new NBC home.
Brooklyn Nine-Nine, Coming Spring 2019, NBC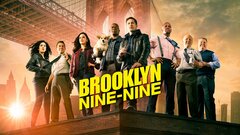 Powered by