'Sharp Objects' Star Patricia Clarkson Talks the Many Faces of Adora
We never thought it would be possible to despise Patricia Clarkson. But sure enough, the award-winning actress (Six Feet Under, The Station Agent) is making us temporarily suspend our goodwill with her turn on HBO's limited series Sharp Objects.
As Adora Crellin, mommy dearest to troubled journalist Camille (Amy Adams) and teen terror Amma (Eliza Scanlen), Clarkson is masterfully poisonous. In the July 29 episode, a frustrated Adora's manicured claws really come out over Camille's role in the murder investigations consuming their small Missouri town. Clarkson invites us in.
Adora's gracious veneer almost had us fooled, but this is not a nice lady!
Patricia Clarkson: The brilliant conceit is that Adora is this kind, loving, charitable, gregarious woman, and yet… It was such a complicated thing, because I had to be Patty showing up to play Adora playing different characters for different people. But I knew what I'd signed up for.
Camille bears the brunt of her mother's wrath. How did you and Amy Adams navigate those exchanges?
It consumes you when you're playing characters of this magnitude, and I kind of had to live in my own cocoon. But of course you find levity. At the end of the day, we'd go have a glass of wine and say 'Cheers!'
Speaking of levity: Is that a hint of flirtation we detect between Adora and Police Chief Vickery (Matt Craven)?
Without giving it away, Adora's relationship with Vickery is exactly what you think. We don't have a lot of scenes together, but what's there has to be powerful because it helps define how this town has let things happen. Acting with Matt was to die for — he's the hottest man and such a dreamboat.
Sooner or later, all the family secrets will be spilled. How much is the truth going to hurt?
I think people will be shocked at how sad this story will make them and how moving it becomes. Toward the end, I have one of the most astonishing monologues I've ever said —and remember, I played Blanche DuBois onstage!
Sharp Objects, Sundays, 9/8c, HBO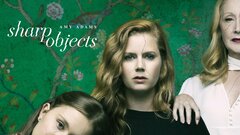 Powered by