Rapper Chanel West Coast on Helping Represent Women in Hip-Hop on 'Celebrity Fear Factor'
Fans of MTV shows like Rob Dyrdek's Fantasy Factory and Ridiculousness know Chanel West Coast. However, the rapper is getting off the Ridiculousness hot seat and could be making a viral video of her own on Celebrity Fear Factor.
The Ludacris-hosted series returns with a celebrity season kicking of with a "Hip Hop Battle" featuring West Coast, along with Tyga, Kodie Shane and Lil' Yachty. The show approached the network personality the Fear Factor fan was excited, yet hesitant, about participating.
"My first thought when people say Fear Factor is eating bugs," she said. "But when they told me it would be the episode with other hip-hop artists I thought, 'This is going to be tight. I'm down for this.' That made me want to do it even more."
Going in the 29-year-old, who teamed with her good friend Ash, prepared herself mentally for anything. She also went in hair-ready.
"I made sure to put my hair in cornrows and braid it back just in case there wouldn't be anything stuck in there," West Coast said. "I made sure had the hair pulled back. I thought, 'I'm not going to have something bad happen to my hair today because I love my hair.'"
West Coast wouldn't go into much detail on the challenges, but it does sound like there are some laugh out loud moments. She would say the first one was "hilarious."
"I think people are really going to like it," West Coast said. "I think that might be a challenge they can reuse in future episodes. Let's just say it involves animals, and it was really funny. That's all I can say because if I say anymore I basically giving away what the challenge was. That was my favorite part of filming the episode was that first challenge.
"…I thought they were going to have me do way more scary stuff. I would love to go back on the show if there was a way to come back for the next round. I would love to come back to do something scarier because I felt like the first challenge was really funny.
"It was hard too. It involved animals, and I love animals. For me, that wasn't as much a fear. I thought I would be doing something more fearful. I would actually love to come back and do scarier s— next time if they are down to have me again."
If MTV wants to truly strike fear in the heart of West Coast, they need not look any further than well…the coast and ocean.
"My biggest fear is being in the middle of deep, dark waters," she said. "When the water is not dark, and I can see in it, I'm not as scared. Then I can see what is going on. If I can't fully see through the water, that just freaks me out being in the deep water and not knowing what is beneath me.
"Even if I'm in a lake, who knows what creatures are in there? I think I've seen too many movies. When I was in middle school, there was this whole slew of creeper water movies. You had Lake Placid and Deep Blue Sea. I think around that time I watched so many of those types of movies, it just gave me this huge fear of being in deep water with these creatures. Also, being stuck inside a small space. I get really claustrophobic."
West Coast appreciates the fact MTV booked a level playing field for the season premiere. There are two men and women hip-hop artists. For her, it helps send the message of equality.
"You see a lot of things where it will be an episode like this or even a music festival, and it will be all guys. And it turns into, 'Where's the girls?' I think it was cool Fear Factor had me and Kodie Shane on this episode as well to rep for the females in hip-hop because I don't think we get as much credit as we deserve.
"A real big reason for that is girls tend to be a little more catty and bump heads. I think if girls all came together and supported each other more that we'd be a lot bigger in hip-hop.
"So, this is a really cool thing for people to see because even though it's a challenge, and we are competing, me and Kodie Shane are homies. We're cool and support each other. I think that's a cool dynamic to see on the how.
"And for me, it's cool to be on an MTV show and be seen for what I am outside of Ridiculousness. I've been on MTV for a long time, and I think they've looked over my music just a drop. It's good to finally be getting that recognition as an artist on the network I've basically called home for 10 years."
Speaking of music, West Coast teased a new song and upcoming video are on the horizon. The title of the single is named after a major star.
"Let's just say that this very big actress is going to be making a cameo in my music video," she hinted. "It's going to be epic. I wish I could give you more details, but then I would give it away."
Along with more music and Ridiculousness, West Coast is also filming a docuseries. One that has been in development for some time. She is no stranger to reality TV, having appeared on VH1's Love & Hip Hop: Hollywood.
"Basically, it's following my life and music career because I don't think people realize that my life 24/7 outside of Ridiculousness is touring, in the studio recording, working with my choreographer Laurieann Gibson. I actually was on her show," she said.
"My music career is really hectic, and that is what I'm always doing. So, we're going to have a series about that really soon. I can't say where it's going to be yet, but that's what I'm working on."
As for building on her experience on Fear Factor, she is up for more reality show competition. There is a certain series she'd agree to do if asked.
"I would do Celebrity Ninja Warrior," West Coast said. "I love obstacle courses. I think it's always fun watching people do those, and I always had fun doing those types of activities as a kid. I'm really into obstacle courses, so I think I would kill it on that show."
Celebrity Fear Factor, Premieres Tuesday, July 17, 10/9c, MTV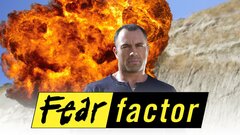 Powered by