Behind the Touching 'X-Files' Tribute to the Legacy of Kim Manners
The X-Files' "Mulder and Scully Meet the Were-Monster" was filled to the brim with Easter eggs, but one was particularly bittersweet—as Guy (Rhys Darby) told Mulder (David Duchovny) the entire story of how he came to be in a human form, they had their powwow in front of a gravestone that honored Kim Manners.
Manners was a producer/director on the original series—he joined the show in Season 2 and helmed more than a quarter of its run—and a vital key to the show's tone/success. After The X-Files ended, he went on to join The CW's Supernatural in 2005, where he remained until his death (from lung cancer) in 2009.
RELATED: How to Catch Up on 9 Seasons of The X-Files in 4 Days
As The X-Files cast and crew went about making the revival, it was the first batch of episodes produced since Season 1 that didn't involve Manners. Darin Morgan, who wrote/directed "Were-Monster" decided to pay homage to the late director by including the tombstone tribute, which included Manners' real date of birth and death, plus his oft-used phrase, "Kick It in the Ass." A second special tombstone was also included as a nod to former first assistant director, Jack Hardy, who also passed away.
"The incredibly sad thing is we actually had a lot of people who had worked on the show who have since passed away," Morgan adds. "So we could have used a lot of people; we would have liked to pay tribute [to them]. Budget-wise, we could only afford two headstones. So that's the sad part. But since everybody who passed away worked on the show, they would understand production limitations."
"I [focused] on Kim, and I left it up to Mark Freeborn, the art director, to choose who he would like [on the other stone]," Morgan continues. "He chose Jack, who was the first AD on the second movie. But like I said, we lost a lot of people. It was really depressing."
RELATED: Here's Why The X-Files Are Airing Out of Order
Out of Morgan's four episodes during the original series, Manners directed two of them. Morgan found a new appreciation for his old friend after he stepped behind the camera to direct his X-Files revival installment. "I don't know how many episodes Kim directed; I think it was over 50…I can't imagine [doing that]," Morgan marvels. "Just doing one almost killed me. The thing about Kim, he was such a strong presence; you could really rely on him to come through for you. Not having that kind of safety net, essentially…it felt missing. It would have been great to have him [on the revival]. I would have loved for him to direct the episode; he would have done a much better job than I did. That's why I wanted to put his name."
But as old-school X-Files fans might recall, this wasn't the first on-screen hat tip Morgan gave to Manners. "I originally wanted him to be in one of my episodes, back in the old days," Morgan recalls. "He was a really good actor. I named a character after him: it was the detective in the 'Jose Chung' episode who was swearing all the time. I wanted Kim to play it, but he was just too tired from having been working all the time. So this is a way for me to finally get him in one of my episodes."
RELATED: Creator Chris Carter Explains Why the The X-Files Really Came Back
Though this is the biggest on-screen tribute to Manners, "they're all Kim tributes," creator Chris Carter says. "It's hard for me to imagine doing this series—or doing a TV show—without Kim. He was that important to the show."
"I wore a Kim Manners button—a KM button—through the filming of the show," Carter reveals. "I feel like his spirit is always with us, and it's bittersweet."
The X-Files airs Mondays at 8/7c on Fox.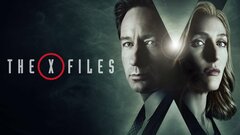 Powered by