What's Worth Watching: 'UnReal', 'Madoff', 'Face Off' and more for Wednesday, February 3
UnReal (Available on Hulu): Looking back on 2015, I included this blistering Lifetime drama on my year-end Top 10 list with the following rationale: "In one of the most marvelously meta collisions ever, TV audiences last summer could tune in to the stupefying The Bachelorette on Mondays and then immediately shift gears by watching how that brand of voyeuristic sausage gets made in Lifetime's thrillingly savage fictional exposé of the "reality" behind reality TV. Humanity is left on the cutting-room floor as a jaded producer (the winsome Shiri Appleby) sells her soul by reluctantly doing the bidding of a demonic boss (Constance Zimmer, electrifying in her bawdy cynicism), turning a made-for-TV fairy tale into a nightmare. No one emerges unscathed in this guiltiest of pleasures, especially the reality-TV fan." The entire first season is now available for streaming and binge-watching. It's so entertaining it's almost unreal.
Madoff (8/7c, ABC): Charming some of the world's richest dupes to entrust their fortunes to him with disastrous results, the notorious financial crook Bernie Madoff is portrayed with genial, avuncular hubris by an expert Richard Dreyfuss in a brisk two-part docudrama miniseries (concluding Thursday). Chipper voice-overs provide an entertaining if alarming how-to guide, helping explain how this hedge-fund con man and former NASDAQ chairman (!) pulled off the swindle of the century, while keeping the rest of his family, including Blythe Danner as wife Ruth, in the dark. Madoff eventually takes on an almost Shakespearean aura of tragedy once his sons learn of the depth of Bernie's chicanery. But that's tomorrow's story. The first half is a fascinating study of unchecked (though not entirely undetected) criminal and fiduciary arrogance.
Face Off (9/8c, Syfy): This season just keeps raising the bar with its fascinating challenges. In their first individual "focus" challenge, the contestants are asked to become masters of disguise, creating make-ups that you wouldn't look at twice, transforming models into "agents" (inspired by Syfy's upcoming series Hunters) who look nothing like their real selves, but must look realistic enough not to stand out or call attention to themselves. I've rarely seen so much anxiety among the artists for any challenge, and more than most weeks, the ones that fail do so spectacularly. But those who succeed display technique that's truly astonishing. If you're curious why this show enjoys such great buzz, this putting-a-new-face-on challenge is a terrific episode to discover Face Off at its best. Gale Anne Hurd (The Walking Dead, Hunters) is the guest judge.
Suits (10/9c, USA): Following last week's riveting midseason opener with Mike's (Patrick J. Adams) fraud exposed, and Harvey (Gabriel Macht) and the entire firm under ruthless attack by prosecutor Anita Gibbs (Leslie Hope, a terrific villain), the stakes grow even higher when Gibbs targets Donna (Sarah Rafferty), using her compromised dad as leverage to get her to turn on Harvey. While everyone plays hardball in court, the search is on for who ratted out Mike. The answer rocks the world of one of the partners, and the fallout doesn't stop there.
Inside Wednesday TV: Roy Harper (Colton Haynes) returns to Star City on The CW's Arrow (8/7c), as the team goes up against the dastardly Calculator (Tom Amandes), who sounds like he'd be more at home on The Big Bang Theory. … In a collaboration between National Geographic and PBS's Nova (9/8c, PBS, check local listings at pbs.org), underwater Creatures of Light are shown in all of their dazzling glory. … CBS's Code Black (10/9c) welcomes a new hottie, Soul Food's Boris Kodjoe, to the cast, playing skilled but egotistical Dr. Will Campbell, who clashes almost instantly with earnest Dr. Neal (Raza Jaffrey). … Crackle's Comedians in Cars Getting Coffee wraps its latest season (11:30/10:30c) with Will Ferrell joining Jerry Seinfeld for a ride through Los Angeles in a 1970 Plymouth SuperBird, where they visit a local playground and surf shop. Look for Ferrell to pop up next on The Late Show With Stephen Colbert's post-Super Bowl show.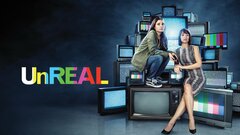 UnREAL
where to stream
Powered by