'The Gong Show' Season 2: Mike Myers on What's New for Tommy Maitland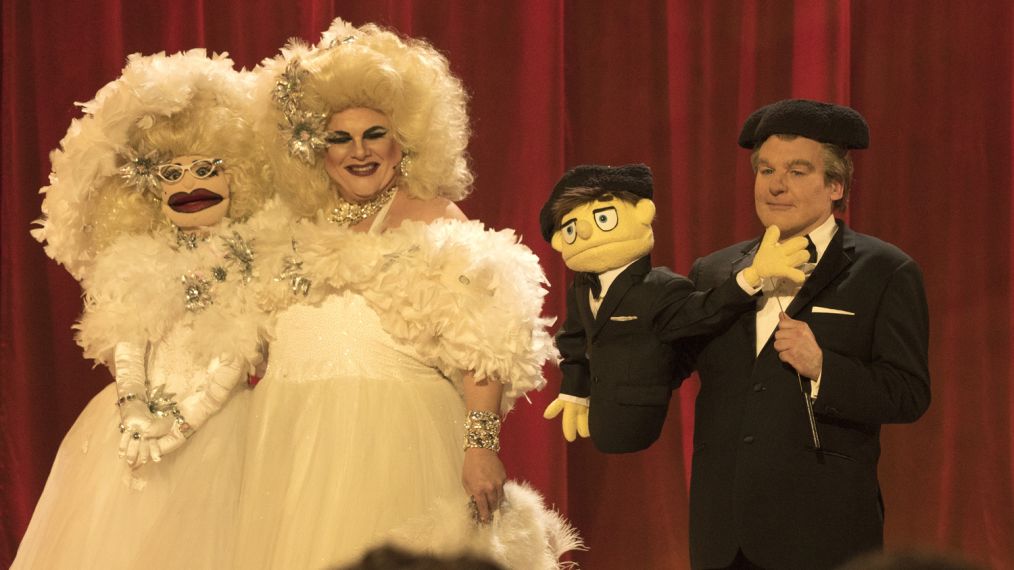 When ABC resurrected The Gong Show last year, audiences knew what to expect: a (lack of) talent show à la Chuck Barris' silly original from the 1970s and '80s.
But comedian Mike Myers has since outed himself as host "Tommy Maitland," and Season 2, Myers says, is "even weirder." Case in point: Thursday, July 12, a man will balance a flaming grill on his chin.
Below is a list of the revival's myriad attractions.
See Also
The 72 year-old comedian finds some love stateside after his British invasion
Maitland Himself
"He loves every act and never has to gong anyone," Myers says of his prosthetic-packed alter ego. Why the subterfuge in the first place? "I wanted to have an older English host [Myers is Canadian] with a gregarious charm who would allow people to fly their freak flag, which is what the whole show is about."
Maitland is not without talent himself. Myers, who used to tap-dance with his mom on Saturday Night Live's Mother's Day specials, does "a lot" of the old soft shoe here too.
The Trio of Judges
The panel of comedy pros changes weekly. Thursday, look for Jimmy Kimmel, Will Arnett and Anthony Anderson — but no matter who is wielding the hammer, Myers says, the scores should be generous. "It's tough to go up and do stuff, you know what I mean?" His dream judges: Groucho Marx and Alice Cooper.
See Also
Will Arnett explains how 'The Gong Show' reboot will both honor the original and carve its own niche.
Familiar Themes
If you like unicycles, confetti or watching people eat surprising items, this is the show for you. Also, Myers says, "things are always on fire."
Suspense
Anticipating whether an act will get gonged is edge-of-your-seat stuff. Says the host, "I watch the rehearsals and what I think is going to get a 10 versus what's going to get gonged is never right."
Big Bucks
Someone will walk away with what Myers calls "the princely sum" of $2,000.18. But, he quips, "You have to find an oversize bank for the oversize check."
The Gong Show, Thursdays, 8/7c, ABC