Kelly Ripa & Ryan Seacrest Talk Summer on 'Live,' Their Chemistry & More
What summer break? Kelly Ripa and Ryan Seacrest are spending their sunny mornings cohosting Live With Kelly and Ryan.
"We do crazy things on air like eat the hottest peppers," Ripa says of the seasonal shows. Viewers can get cooking ideas from Friday grilling segments, watch fun guests like Dwayne "The Rock" Johnson — and coo over today's reveal of the annual Oh Baby photo contest winner. The morning show dream team dished to TV Guide Magazine.
Kelly, you've been a part of this competition since 2003. How do you judge what makes a cute baby photo award-worthy?
Ripa: Well, there's a difference between photogenic and actual cuteness. Just kidding! It's just the picture that stands out the most. Usually I notice it has something to do with an engagement of the eyes in that moment. And now with smartphones, you can take 85,000 photos until you find that right one.
Seacrest: [I remember when I was a kid] my mom would drop film off at the photo booth, and then we'd pick up the pictures in a little envelope and look at them.
Ripa: Oh, we did the same thing when my son Michael [now 21] was a baby. I'd order three copies of every single picture—for us, my parents and my in-laws. All I did was develop photos.
On May 1, you two celebrated one year as cohosts. What would you say is the secret to your chemistry?
Ripa: We've built a friendship for a long time, so there's a trust factor. He's the kindest person I've ever met. My kids [Michael, Lola, 17, Joaquin, 15] are the best judges of character, and they fell in love with him. They call him Uncle Ry-Ry.
See Also
The 'conflict-resolution talk show' will debut in the fall.
Seacrest: I'm the same size as her youngest. Also, we are similar in a way that [it seems like] we're almost related. We'll think the same thing before saying it aloud. We've basically morphed into the same person.
What's the best part about doing summer shows?
Seacrest: There's a different mood and spirit in audiences and viewers. I look out in the audience and know it's summer. Everyone is lively.
Ripa: Parents and their kids come to New York City on vacation and do the tourist things. We're one of the tourist things.
Live With Kelly and Ryan, Friday, July 13, Syndicated (check local listings)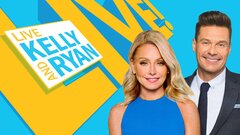 Powered by