'Detroiters,' 'Gong Show' for Laughs, 'Shooter' and 'Queen of the South' for Thrills
A selective critical checklist of notable Thursday TV:
Detroiters (10/9c, Comedy Central): On an unusually busy night of premieres, this offbeat comedy about Detroit's most inept ad guys is a personal sleeper fave. Veep's Sam Richardson and Tim Robinson (Saturday Night Live) are, naturally, Sam and Tim, running Tim's family ad agency — into the ground, more or less, although as Season 2 opens, they're on a bit of a hot streak. Which could come to a thudding halt as they cross paths with a sheepishly inept lawyer (a very funny Tim Meadows) who becomes their next image-makeover client, even as he takes on the DUI case of long-time receptionist Sheila (Pat Vern Harris). In the second of two back-to-back episodes, Tim becomes jealous when Sam goes on camera for one of their campaigns. As usual, any victory these guys enjoy is short-lived.
The Gong Show (8/7c, ABC): And so it's come to this: a second season of America's Got No Talent, a cheerfully ridiculous reboot of the cult classic not-quite-talent show, presided over by Mike Myers as Brit nitwit Tommy Maitland. Celebrity judges for the premiere include Rita Wilson, Fred Armisen and executive producer Will Arnett. And honestly, where else are you likely to witness an act involving waterless swimmers?
Shooter (10/9c, USA): Ryan Philippe's injury cut last season short, leaving his character of Bob Lee Swagger in a dangerous hostage situation with master assassin Solotov (Josh Stewart). As Season 3 picks up, Bob Lee resolves one predicament only to find himself embroiled into an investigation of his own father's death. And yes, it's all tied into the conspiracy that framed Bob Lee in the first place.
Take Two (10/9c, ABC): Recommended primarily to those who are still so in mourning for Castle that they'll settle for a lesser version of a gender-flipped premise. Rachel Bilson (The O.C.) stars in this too-cute procedural as Sam, a disgraced former TV cop who begins hanging around scruffy L.A. private eye Eddie (Eddie Cibrian) to research a potential new role. This corny set-up is a staple of just about every crime drama ever, but usually lasts for just an episode. Here, it's the entire show, and by the second episode previewed, it leans on another cliché: trapping adorable Sam and hunky Eddie in a closet, testing a presumed sexual chemistry so far not in evidence. As Take Two progresses, Sam refuses to be a silent observer, and like a gnat o helium, keeps butting in on peeved Eddie's cases, while the weary shamus keeps trying to school Sam on the fakery of TV crime drama. Case in point: Take Two, which even by the standards of summer fluff goes beyond light mystery to the realm of weightlessness.
Inside Thursday TV: USA's telenovela adaptation Queen of the South (9/8c) opens its third season with Teresa (Alice Braga) now hiding from queenpin Camila (Veronica Falcon) in Malta — where she conspires with a money launderer to launch her own drug empire… Alec Baldwin is back cheering on celebrity contestant to do their smutty best on a new season of ABC's Match Game (9/8). Saturday Night Live's Kenan Thompson and Claws' Niecy Nash are among those playing along… In case the trailer for the upcoming Lady Gaga-Bradley Cooper remake has piqued your interest, TCM presents 1954's gold standard version of A Star Is Born (10/9c), featuring Oscar-nominated performances by Judy Garland and James Mason, as part of its "Mad About Musicals" summer festival… Celebrating a career that spans TV, movies and a record of social activism, TNT airs the all-star AFI Life Achievement Award: A Tribute to George Clooney (10/9c), taped earlier this month at L.A.'s Dolby Theatre… Derek Hough and Nicole Scherzinger, who won the 10th season of Dancing With the Stars as a team, now compete against each in a Shania Twain-themed episode of Paramount Network's Lip Sync Battle (10:30/9:30c).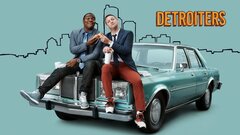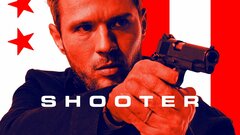 Shooter
where to stream