A 'Seinfeld' Reunion & 4 More Ridiculous Moments From the New 'Between Two Ferns (VIDEO)
It's always a good day when you witness the comedic genius of two masters such as Jerry Seinfeld and Zach Galifianakis (Baskets), and that's exactly what viewers get in the latest installment of Between Two Ferns.
The web show presented by Funny or Die is a talk show with a comedic twist, as Galifianakis interviews high-profile guests between two literal fern plants. In the new webisode, Jerry Seinfeld is the guest, much to Galifianakis' dismay, it would appear.
During the six-and-a-half minute video, plenty of things happen from a funny Seinfeld reunion to one big surprise guest. We're breaking down some of those best moments below.
1. Zach Galifianakis isn't pleased about his guest.
When the episode begins, Galifianakis is seen whispering to someone off camera about how they'd had Hillary Clinton as a guest before, and that they need someone more relevant. "Now I have this guy… But it's like I Love the '90s. We might as well have Lorena Bobbitt as a guest, you know," he says while gesturing to Seinfeld. As the interview begins, Galifianakis nearly introduces his guest as Jerry Sandusky before a misspelled version of Seinfeld's name pops up at the corner of the screen with the caption, "Funny 1993-1997."
2. When the success of Jerry Seinfeld's peers are discussed.
"Actor, writer, comedian, producer; which of Larry David's skills do you admire the most?" Galifianakis asks after highlighting Julia Louis-Dreyfus' Veep, referencing Michael Richards' stand-up, and more. Eventually the conversation lands on Seinfeld's Comedians in Cars Getting Coffee, asking, "what's next in lazy car-based, non-comedy?"
3. Bee Movie vs. The Hangover franchise.
Listening to Seinfeld and Galifianakis hurl insults about each other's films is even better than you can imagine. The pair use priceless soundbites to tear the other down — all in good fun of course. Among the best insults are when Galifianakis says Bee Movie should have been called "D- Movie." Seinfeld in reaction asks Galifianakis if he thinks The Hangover would be "considered a comedy classic," if there had only been one film.
4. A Seinfeld reunion for the ages.
Hello, Newman! Even as the interview continued to pass with little enthusiasm from both Seinfeld and Galifianakis, the situation intensifies when Wayne Knight pops in. When Knight and Seinfeld greet each other amicably, Galifianakis is displeased as he hoped for an interaction closer to their onscreen personas — Jerry and Newman hated each other on the '90s show. Essentially the exchange ends with Knight storming off stage after collecting his "pay."
5. When a "better guest" comes along.
Cardi B is in the house… which means that Jerry Seinfeld is being booted from his seat to make way for the pregnant pop star who is given a gift, and adored by host Galifianakis. Meanwhile, sitting on a milk crate in the corner, Seinfeld notes his lack of inclusion. Ultimately, once Cardi B takes her leave, Galifianakis cuts the show off, and closes thing with a pointed stand-up bit inspired by Seinfeld.
To catch the entire thing in all its glorious hilarity, watch the video below.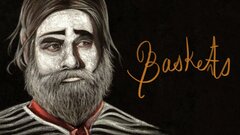 Baskets
where to stream
Powered by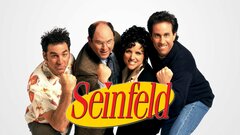 Powered by