Still Shocked by Caroline's Pregnancy on 'The Vampire Diaries'? Get More Scoop About What's Coming Up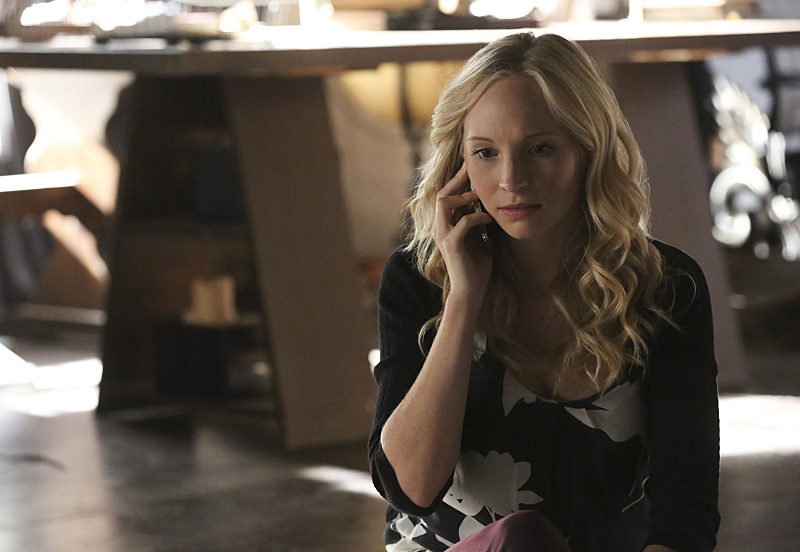 Our favorite vampire, the soft-hearted, fun-loving Caroline (Candice Accola King) is preggars! Ok, so we've never heard of a pregnant blood sucker, considering they're technically, well, dead, as Caroline herself put it. We asked executive producer Caroline Dries to explain the reveal and other doings from last night's episode, appropriately titled Mommie Dearest.
Did you always plan to write Candice's real-life pregnancy (with husband Joe King of The Fray) into the season?
Yes, we wanted to give Alaric (Matt Davis) something to hope for—a light at the end of the tunnel—after everything he'd been through last season, so we had a pitch on the table where a stranger was going to knock on his door, essentially, and say, I'm pregnant and I think it's yours. When Candice called and said she was three months pregnant, we were like huh. I looked at Julie and was like, this is going to be crazy, BUT. And it was crazy for all the reasons people are saying, but it also makes perfect sense the way we've "factchecked" it.
Did you make up, on the spot, that your vampires had functioning bodies just like humans with heart beats, etc.?
We said season one that as long as a vampire is on a healthy diet of human blood, their bodies function similarly to normal living bodies.
Did you have to rewrite, or did you know about Candice's pregnancy early enough?
The accommodation aspect was in our favor, because we went from telling this story about a character we hadn't even cast yet, to focusing one of the major plots of the season onto our main character. It worked out.
How will Caroline, who's the nicest vampire ever but sort of a fun hedonist, deal with being the first pregnant vampire?
It will be a struggle of course because, besides the normal what to expect when you're expecting baby drama, Caroline needs to deal with the fact that she was NOT expecting this. She didn't ask for this. She certainly doesn't have time for it. Really, the only reason she's "okay" to carry these babies is because Ric needs her, and he has lost so much already. It's not a fair position for Caroline to be in, and her character will strengthen as she goes through this journey.
Will the babies be born this season? Is her gestation even human length?
The babies will be born this season. We are trying to keep up with Candice, who is visibly pregnant. Time is one of the motifs in this season of Vampire Diaries, and it's one of our only seasons where we've really pushed forward in time—and, I mean, weeks as opposed to every episode being the next consecutive day. But it's a big deal for us.
Carolyn and Alaric are engaged in the future. Does that have anything to do with the kids?
You'll have to see, but the way we've explained it (revealing her as his fiancée in the same episode that she finds out she's pregnant) certainly implies that.
Is the idea that the surrogate mom will play a part in the kids' lives?
You will have to see how this plays out.
Do you know what these children will be, being half-human, half-witch and gestated by a vampire?
Our intention is to give Alaric some normalcy. That being said, these babies, if you recall, were the natural next leaders of the Gemini coven. So obviously there are going to be one or two complications in that. We don't want, however, to play "baby hijinx" with two freshly born babies so that will not be the plan.
Besides a pregnant vampire, what were some of the discarded ideas? Was the coven's magic a tough one to come up with?
We saw the Gemini chanting at the wedding ceremony in 622, so the "spell piping" had already been laid, so to speak. The how-didn't-anyone-hear-any-extra-heartbeats bit, that was the genius work of the writers' room who said the babies were cloaked, which is a Gemini trick. So it really all fell into
We also learned last night that Julian (Todd Lasance) and Lily (Annie Wersching) are bound. What would happen to her if Julian was put in a coffin and sealed with silver chains say, but not killed?
That would be a great idea. I hope our guys think of that very quickly.
Can Lily delink herself from Julian? And does he, despite being truly awful, really love her?
What I love about Julian, because I know he is deeply hated, is that he DOES love Lily. That's what makes him a good villain in my mind. Can they unlink Lily? They can certainly try.
Why didn't Stefan (Paul Wesley) tell Damon (Ian Somerhalder) about what their mother Lily really (or maybe!) tried to do back when they were young humans. She said she worked to escape from their psycho father.
Damon and Stefan figured out that their mom has a pattern of falling for, and being trapped by, abusive men. Their father was the example they can relate to and still probably suffer some PTSD from. They're worried Lily is still in the honeymoon period with Julian, and that he will turn out the same as Guiseppe, which I think is a truthful belief on their part. They don't want her to see her go down that path.
RELATED: Paul Wesley Bites Into Season 7 Storylines
We saw all these compelled humans at the school, seemingly being used as blood banks. Were the heretics really just planning to keep humans around as food?
Nope, we have a little fun up our sleeves for what we're doing with them.
Just curious. Why create a mute heretic in Beau (Jaiden Kaine)?
We weren't so interested in a mute heretic as much as we were interested in showing the power of the weapon that gave him that voicebox-shattering wound on his neck. Beau is the carrier of an "X" scar, another motif of the season.
What's with Bonnie (Kat Graham) and Enzo (Michael Malarky)? There's chemistry there. Is there a future for them together?
Well, as we saw in the flash fowards, they did kiss. The question you're meant to be asking is, how did they get there considering that, yes, there's chemistry, but it's a bickerfest between them, and love doesn't seem to be on the horizon.
The Vampire Diaries, Thursdays, 8/7c, The CW
[jwplatform gQN8RHtd]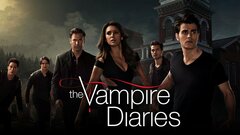 Powered by