'The Vampire Diaries' EP on Their New Friday Time Slot and Damon's 'Journey in his Custom-Made Hell'
For the first time ever, The Vampire Diaries has a new night on The CW: Fridays at 8/7c.
"My first reaction was, 'Oh…'", executive producer Caroline Dries told reporters after a screening for the show. "But we're not a superhero show, we're on a million seasons, of course we have fewer viewers now than when we started. Of course it's a little humbling, because it's such an obvious [mindset] that low-level shows go to Fridays. However, The CW, I feel, is the exception, because Supernatural did so well on Fridays."
"Who knows what will happen?" she continued. "We're not really in it for getting new viewers; the fans that we have now are the people who will watch it any day of the week. My first instinct is a little bit of an ego tap, but the second I processed it was, 'Fine.' The only weird thing will maybe be not having as many people able to live-blog, because they actually have a life or are out to dinner doing something more interesting on Friday nights…[but] of course they're going to put Legends [of Tomorrow] on Thursdays. I get it."
The series is also counting on its fall finale cliffhanger to bring viewers to its new Friday home. We last saw Mystic Falls residents Damon (Ian Somerhalder) and Stefan (Paul Wesley) stabbed, and their souls trapped in the Phoenix Stone…essentially rendering them stuck in their own personal Hell.
"This is Damon's story of the chickens coming home to roost," Dries teased. "He had unresolved emotional issues with his mom. He basically spat on her while she was dying; spat on her grave. And now it's time for him to have a mirror held up to him and say, this is what happens when you don't have remorse. This is his journey in his custom-made hell for him."
The Vampire Diaries airs Fridays at 8/7 on The CW.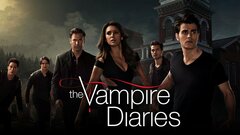 Powered by