'The Bachelorette' Episode 3: More Than Becca's Heart Gets Broken (RECAP)
[SPOILER ALERT: This recap features spoilers from the Season 14, Episode 3 of The Bachelorette.]
We're now three weeks deep into The Bachelorette, and the drama is real. After finding out that Colton had history with Tia last week, this week's ep involved Becca confronting Tia herself — along with appearances from her former Bachelor costars.
And then, of course, there was the first official injury of the season. And the second official injury of the season. But honestly, this is an ABC reality TV show… should we have expected anything less?
See Also
Plus, Jordan pulls a bizarre stunt.
And obviously, being that more than one of Becca's contestants plays football professional, of course there's a football date planned — as if we didn't see that one coming.
Here's what you missed on The Bachelorette this week:
The Colton/Tia Debacle
Several of Arie Luyendyk Jr.'s former female contestants appeared at the beginning of Becca's episode, and she wasted no time getting the truth from Tia.
Apparently, Colton and Tia connected via social media (as two millennial do) and "hung out." He thought Tia was going to be the next Bachelorette.
And Tia didn't think Colton would be on the show, until she arrived and Becca told her. WHOA, y'all.
Caroline, Tia, Bekah M, Seinne, and Kendall are here for the party! #TheBachelorette pic.twitter.com/F0r61P7yJG

— The Bachelorette (@BacheloretteABC) June 12, 2018
However, Becca gets major friend props, because she seemed to be the most concerned about whether Tia was comfortable being around someone she used to "date." Women taking care of other women, right? THE BEST.
But Becca was still pretty apprehensive about Colton being there for the right reasons, and who wouldn't be?
The Spa Date
If you thought that would be the end of the Colton/Tia drama, you'd be wrong.
The girls were there to participate in a spa date… and of course, one of the guys on the group date was Colton, which meant they had to come face to face. DRAMA!
See Also
'I can't fault anyone for what they believe,' she says.
After the awkwardness ensued, Becca and Tia sat down to chat one-on-one. According to her, the most they did was kiss, and they never really established whether they were dating or whatever — mostly because he had applied to be on the show.
They left off on a good note with each other, but Becca clearly couldn't get Colton thinking Tia was the next Bachelorette off her mind… and this whole situation kind of ruined the vibe of the entire date.
Jordan Strikes Again
Face the professionality. #TheBachelorette⁠ ⁠ pic.twitter.com/jNh0zZqjQT

— The Bachelorette (@BacheloretteABC) June 12, 2018
If you're playing a Bachelorette drinking game and you're supposed to take a shot every time Jordan mentions he's a model… well, we feel sorry for you. Goodluck with that hangover.
Not only did he bring up his modeling career during the group date, but he also brought up the fact that he received 4,000 Tinder likes in 2018, as if that's a bragging point.
Oh, and he told Becca he's a "golden retriever" in relationships. Is… is that a good thing?
Then, back at the mansion, he got sooo salty with Colton, and confronted him about Tia.
See Also
Season 14 is all on Kufrin's terms.
Call 911
It didn't happen on camera, but it was still pretty scary.
While everyone was asleep, David fell out of bed, landed on his face, busted up his nose and face, and an ambulance needed to be called. He wound up in intensive care at the hospital.
BTW, if you forget who David is, he's the chicken guy:
Becca, being true angel that she is, called David as soon as Chris Harrison informed her of the news.
Fortunately, it sounded like he was doing better and even planning to come back to the show. Meanwhile, Jordan was back at the mansion, attaching railings to all the beds.
Gone But Never Forgotten
During a football group date that ran way too long, Clay hurt his wrist while scoring a touchdown, meaning that an ambulance was called to set for the second time this episode.
Later on that night, he returned with his arm in a sling, thinking everything would be fine. But an meeting with an orthopedic surgeon confirmed that if he wanted to keep playing pro football, he'd need to get surgery ASAP.
Unfortunately, that meant that Clay had to go home — and there were tons of tears involved, from both of them. Fingers crossed that he gets better soon because he was was of the good ones.
S0, no rose ceremony needed this week, but on the next epsiode we'll find out who ends up officially staying and see David, the Chicken Guy's, triumphant return.
The Bachelorette, Mondays, 8/7c, ABC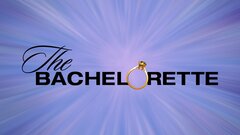 Powered by