Robert DeNiro Curses Out Trump & 7 More Buzzed-About Tony Awards Moments
Sunday night marked the 72nd Annual Tony Awards, held at Radio City Music Hall, where the best in theater was honored and celebrated.
The night was hosted by Broadway and Grammy-winning stars Sara Bareilles and Josh Groban, and featured many memorable moments including amazing performances, emotional acceptance speeches, and a, well, fed up Robert DeNiro.
Below are the eight most-talked-about moments from the Tony Awards:
8.
There was a legit goat on the red carpet and people were loving it.
It might be a @TheTonyAwards first: A goat on the red carpet — and a stylish one, too. #TonyAwards2018 pic.twitter.com/fzxGLU9TBq

— NY1 – ON STAGE (@NY1onstage) June 10, 2018
7.
Billy Joel presented a Special Tony Award to Bruce Springsteen for his Broadway concert residency, Springsteen on Broadway.
Someone who wasn't feeling The Boss was Neil Patrick Harris. The actor remarked how Springsteen had to use a teleprompter for his acceptance speech.
How was @thealexnewell not nominated for a Tony? @springsteen won, and he uses teleprompters. I don't get the logic… #livetweetingtheTonys

— Neil Patrick Harris (@ActuallyNPH) June 11, 2018
6.
Every time the camera panned to the audience, Tony-nominated Andrew Rannells' face displayed pure delight and joy. He was caught (multiple times) smiling from ear-to-ear and just appearing to be having the time of his life.
if seeing @AndrewRannells huge smile every time the #TonyAwards camera pans over to him doesn't make your heart burst i'm not sure what does pic.twitter.com/Y1jKuK20Xm

— P🤩 (@paigeelizxbeth) June 11, 2018
5.
Glenda Jackson won her first Tony at 82 years old. She took home the Tony for Best Performance by a Leading Actress in a Play for her work in the play Three Tall Women.
And now she's almost an EGOT winner — meaning she's won a Tony, an Oscar, and an Emmy, but still needs a Grammy.
4.
Andrew Garfield won the Tony for lead actor in a play for his role in Angels In America. He dedicated his award to LGBTQ community.
"We are all sacred and we all belong, so let's just bake a cake for everyone who wants a cake to be baked," he said in this acceptance speech.
3.
Co-hosts Josh Groban and Sara Bareilles dedicated this year's 72nd Tonys to the "people who lose" in their opening number.
"This is for the people who lose / Both of us have been in your shoes / This one's for the loser inside of you / This is for the people don't get to take the trophy home," they sang behind pianos.
2.
Some of the students from Marjory Stoneman Douglas High School, who survived the terrible shooting in Parkland, Florida, performed "Seasons Of Love" from Rent to honor their theater teacher, Melody Herzfeld. Herzfeld was the night's recipient of the 2018 Excellence in Theatre Education Award.
One of the students, Kali Clougherty, blew the audience away with her jaw-dropping solo.
1.
Robert DeNiro was bleeped at the Tonys for cursing out President Trump during the live broadcast.
"First, I wanna say, f**k Trump," he stated. "It's no longer 'Down with Trump,' it's 'f**k Trump,'" he repeated later after receiving a standing ovation from the crowd.
Watch the uncensored version below:
Watch: Robert De Niro won a standing ovation at Sunday night's Tony awards for attacking Trump. pic.twitter.com/SnFjYAQJ7j

— Guardian US (@GuardianUS) June 11, 2018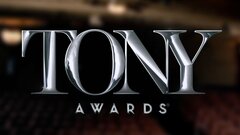 Powered by