MTV's 'Finding Carter' Will Not Return for Season 3
MTV's teen kidnapping drama Finding Carter is no more. The news broke first on Friday (January 29) in a tweet by actor Zac Pullam who played Carter's (Kathryn Prescott) little brother Grant, and a network representative later confirmed the show will definitely not be coming back.
Sad to say it but if you don't already know, Finding Carter won't be returning for a season 3

— Zac Pułłam (@zacpullam12) January 29, 2016
Season 2 wrapped in December just as Max (Alex Saxon) was getting carted away to prison. Guess we'll never get to see Saxon sporting an orange jumpsuit and a shaved head after all.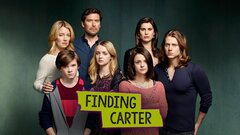 Powered by