Cartoon Network and Warner Bros. Announce 'Justice League Action' Superhero Series
Get ready for a kid-friendly dawn of justice. Warner Bros. Animation and Cartoon Network have partnered on a new series, Justice League Action, featuring Superman, Batman and Wonder Woman and their allies and enemies from the DC Comics universe. "Whether defending the Earth, facing invaders from space, or battling the bizarre forces of magic, the always-rotating team of Justice League heroes are up to any challenge," according to a press release. Episodes will be 11-minutes long.
RELATED: Meet the Voice Cast of Justice League vs. Teen Titans
Kevin Conroy and Mark Hamill (yes, that Mark Hamill) will play Batman and the Joker, respectively, which won't be a stretch: They've played those roles in many previous shows and video games, most notably Batman: The Animated Series. The cast also includes another former Caped Crusader: Deidrich Bader, the star of Batman: The Brave and the Bold, takes up the mantle of Booster Gold, a lesser-known DC hero with a thirst for fame. Academy Award nominee James Woods will play Lex Luthor. Additional casting has yet to be announced.
Sam Register is the executive producer of JLA, with Butch Lukic, Alan Burnett and Jim Krieg on board as producers.
Check out the full promotional poster for Justice League Action.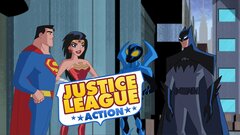 Powered by