Roll Call: Meet the Cast of 'Justice League vs. Teen Titans'
There are gonna be some new kids on the block when Warner Bros. Home Entertainment rolls out their next movie, Justice League vs. Teen Titans. While the sidekick stars already headline the popular cartoon Teen Titans Go, this will be their debut in the DC Universe original movie series from Warner Bros. and DC Comics.
Supervising producer James Tucker and director Sam Liu have put together a top-notch voice cast. The Walking Dead vet Jon Bernthal plays Trigon, a ruthless demon who shares a long comic book history with the Teen Titans. That includes his daughter, team member Raven, who will be played by Taissa Farmiga, best known for her roles in the American Horror Story franchise.
Also in the cast are Jake T. Austin (The Fosters) as Blue Beetle, Brandon Soo Hoo (From Dusk Til Dawn: The Series) as Beast Boy, and Kari Wahlgren (Phineas and Ferb) as Starfire. The line-up also includes veterans of previous movies in this series, including Shemar Moore as Cyborg, Sean Maher as Nightwing and Stuart Allan as Robin. Returning Justice Leaguers are Jason O'Mara as Batman, Jerry O'Connell as Superman, Rosario Dawson as Wonder Woman and Christopher Gorham as the Flash.
The film—which will arrive this spring on Blu-ray, DVD and Digital HD—sends Robin to work with the Titans after his volatile behavior botches a Justice League mission. The young team then must really step up to face Trigon after he possesses the League and threatens to conquer the world.
The story (which is not based on a specific comic book) is by Bryan Q. Miller, whose TV credits include Smallville and Defiance. He wrote the script with animation maestro Alan Burnett. Phil Bourassa handled the character designs and Sam Register is executive producer.
A preview of Justice League vs. Teen Titans will be available as one of the extras on Batman: Bad Blood, which starts its roll out this week.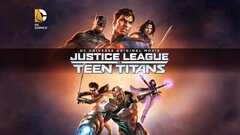 Powered by