My TV Obsessions: '13 Reasons Why' Star Christian Navarro on His Dream Co-Star
Christian Navarro, who's currently starring as Tony Padilla on the Netflix hit series 13 Reasons Why, shares with us the shows that have impacted his life.
MY FAVORITE SHOW RIGHT NOW:
The Walking Dead. I love how it turned the postapocalyptic genre on its head by making the survivors the true antagonists.
THE FUNNIEST PERSON ON TV:
Julia Louis-Dreyfus (Veep). That woman is strong, smart and absolutely hilarious.
THE SHOW I MISS MOST:
The West Wing. I'd love to see a reboot where Charlie (Dulé Hill) is running for president, with Josh (Bradley Whitford) as his chief of staff.
THE SHOW THAT ALWAYS MAKES ME LAUGH:
The Office. Michael Scott (Steve Carell) just gets me.
MY GUILTY-PLEASURE SHOW:
RuPaul's Drag Race. I binged it during the filming of 13 Reasons Why. It is so inspiring and heartwarming — and downright funny.
See Also
The actor plays Tony Padilla in the hit Netflix series.
WHAT I EAT WHILE WATCHING:
Pizza. Always pizza.
THE SHOW I'D LIKE TO GUEST STAR ON:
I'd really love to be involved in the Marvel franchise in some way. You know, Netflix produces some Marvel shows…I work for Netflix.… It could happen!
MY DREAM CO-STAR:
Robert Downey Jr. He's my favorite actor. He's able to use language in such a compelling way.
13 Reasons Why, Streaming now, Netflix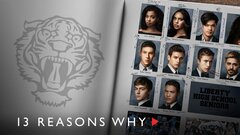 Powered by