J.K. Rowling's 'C.B. Strike': Tom Burke & Holliday Grainger on How It's More Than a Crime Drama
When Harry Potter author J.K. Rowling began tackling a quite different storytelling genre — crime novels — she wanted to do so without any of the expectation or hype that would come with her famous name.
To accomplish this, she used the male pseudonym "Robert Galbraith" when she wrote what has become, to date, the three-book series of detective novels featuring London private investigator Cormoran Strike. And now, those novels are coming to American TV screens in the form of Cinemax's C.B. Strike.
The first Strike novel Rowling published as Galbraith, The Cuckoo's Calling, came out in 2013 to acclaim from reviewers and fellow crime writers. Rowling's identity as the author of that novel didn't remain a mystery for long, but she went on to write two other Strike books under the Galbraith name to maintain the distinction from her other writing.
However, Rowling is credited under her real name as an executive producer on this series adaptation of her books, which aired in the U.K. last year under the title Strike, and was renamed C.B. Strike for Cinemax, premiering Friday.
No matter what it's titled, the series is worth a watch, not just for fans of the books or of Rowling herself, but also for people who enjoy old-school detective series with a modern twist.
In its style and tone, and its relatively understated presentation, C.B. Strike combines the best of classic British mystery series like Inspector Morse with elements from American film noir detective dramas of the past to come up with something original. It's a highly compelling series in which the two main characters — Tom Burke as Cormoran Strike and Holliday Grainger as Robin Ellacott — can be an even more intriguing focus than the mysteries.
"I think [it] kind of harkens back to the retro '70s detective TV shows," Grainger told TV Insider. "It's like technology or social media or whatever doesn't really play a part in it, so there is this kind of retro classic feel to it. And also, I think, in the character of Strike, there is something about the 'ruffled detective' about him"
Indeed, when we first meet Strike, he seems like he will be the usual rumpled type of private investigator we've become used to seeing in many movies and TV shows. But we quickly learn that the investigator — a former military policeman who lost part of his leg in Afghanistan — has intelligence, moral clarity and pain beneath the surface.
"He's a bit of a fugitive from his past," Burke revealed to us about Strike. "When I first [was cast], he seemed like this bloke who [just] ate pies and drank bitter at his regular pubs. But underneath all that was something incredibly unusual, and exotic, and fragile. I don't think anybody's just a big bloke who drinks beer."
In his performance, Burke expertly and subtly conveys that fragility of Strike's over the course of the first season, which is composed of seven episodes. The first three hours make up The Cuckoo's Calling, an adaptation of Rowling's first book; there are then two hours each devoted to the follow-up novels, The Silkworm and Career of Evil.
Just as the books do, each ensuing episode of the series lets us in a little more into the secrets of Strike's past — not just his days in the military, but also his personal background as the son of a famed rocker father and a groupie mother.
"You understand how that thick skin has grown over all that stuff," Burke explains of the audience's insights into Strike's past, which are every bit as revealing as the clues uncovered for a particular case on which he is working.
We also delve more into Grainger's character. Robin starts out as a temporary assistant to Strike, but she quickly proves her own case-solving mettle and struggles between finding a "real job" — which her fiancé, Matthew (Kerr Logan), at first wants her to do — versus staying on with Strike and following her real passion for casework.
Just as with Strike, our perceptions of who Robin is are turned around almost immediately. Many private-eye stories have a "girl Friday" sort of character, a female assistant who helps the detective and might get into some of the action on occasion, but about whom we end up learning little on a personal level. That is not the case with Robin.
As the series progresses, we watch her trying to balance not only the hopes that Strike and Matthew have for her, but, more importantly, trying to figure out what she herself wants out of life.
"In some ways, she strikes me as a slightly more mysterious character," Burke said of Robin.
"The thing I love about the characters," said Grainger, "and love about how the book is written, is that the relationship between Strike and Robin is a slow-burning story. No matter what the main storyline of the mystery is going on, the audience learns about Strike and about Robin as they're learning about each other."
That ties back to something interesting that Burke said about the series. Beyond the plots of the three murder mysteries, he explained that Rowling's characterizations of the leads builds "the kind of framework for this other [kind of] mystery, which is the mystery between two human beings, between Robin and Strike, which is written in such a brilliantly gentle, nuanced way in the books."
Given this, it was naturally important that Rowling weighed in via her role as an executive producer. Grainger said that Rowling gave the okay on casting and watched footage, and would give feedback.
"I definitely felt from the get-go that she was just keeping an eye that we were on the right track," said Grainger. "And when we didn't get that many notes from her in the first few weeks, it was just like, 'Yeah, you're doing it.'"
Once she okayed the casting, Rowling must have been content to let the amazing chemistry between Burke and Grainger just flow. Burke and Grainger masterfully play off each other in this "mystery between two human beings."
Burke credits the creative team. "They really gave us the space to find something that just sort of gradually grew between us," he said.
"I think a lot of the chemistry between Strike and Robin comes from an immediate knowledge of each other," Grainger offered, "and a kind of mutual respect.
"And I think as soon as I met Tom, and as soon as I saw how he plays Strike, Tom's version of Strike is exactly how I read Strike in the book. And so I immediately, as an actress, had a respect and an understanding for what he was doing.
"And I think kind of the same with Robin. Robin has this respect for Strike, and I think both Tom and I, knowing what the other's doing, were very much on the same page. I think that went towards a lot of the chemistry."
After watching this chemistry in C.B. Strike, you may find yourself wanting to follow these characters more. You wouldn't be alone — both actors told us that they can't wait to revisit these roles. But there won't be another series until Rowling completes the latest Strike novel, Lethal White.
"There is a fourth book on the way," Burke said. "[Rowling's] told us about it. But, I don't think I'll necessarily be filming it until 2020. … I'd love to do more. I could quite happily do several more."
Grainger concurred.
"I would be onboard for Robin," the actress said. "I can't wait. I'm so excited. I believe that the fourth book is nearly finished being written, and I can't wait to read it, because I would love to know — not even from an actor's view, but just from a reader's point of view — I'm desperate to know what happens with Strike and Robin in the next book."
Since we spoke with Burke and Grainger, Rowling has indicated that she has finished writing Lethal White, and hinted that it may be released in the relatively near future. So perhaps the mystery of when a new season of C.B. Strike might be seen may be close to being solved.
C.B. Strike, Series Premiere, Friday, June 1, 10/9c, Cinemax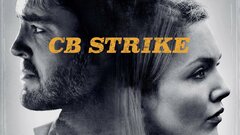 Powered by