NBC's Red Nose Day Specials, 'Last Days of Michael Jackson,' 'Siren' Finale
A selective critical checklist of notable Thursday TV:
Red Nose Day (8/7c, NBC): The network's fourth annual charity extravaganza, raising money to combat child poverty, kicks off with a special edition of Celebrity Ninja Warrior, featuring World of Dance judges Derek Hough and NE-YO and American Ninja Warrior host Akbar Gbajabiamila among those tackling the course. At 9/8c, Hollywood Game Night convenes, with Jane Lynch hosting an all-star crew including Kelly Clarkson, Sean Hayes, Jack Black, Chelsea Handler and Cedric the Entertainer. The night concludes at 10/9c with an hour of comedy and variety highlights, hosted by Chris Hardwick, live from New York's Rockefeller Plaza. Watch and donate, red nose optional.
See Also
The fourth annual event will air Thursday, May 24 on NBC.
The Last Days of Michael Jackson (8/7c, ABC): A sign that the network TV season is really and truly over: a flimsily pegged two-hour special from ABC News rehashing the life and shocking death of the "King of Pop," one year and one month before the 10-year anniversary of Michael Jackson's passing. Highlights include never-seen video from Jackson's interviews with Barbara Walters and Diane Sawyer.
See Also
The series will be based on a book the PBS host is releasing this week.
Siren (8/7c, Freeform): Recently renewed for a second season, this fishy supernatural thriller wraps its freshman run with the siren song enchanting Ben (Alex Roe) and Decker (Ron Yuan), while Sheriff Dale (Gil Birmingham) is put on the spot to answer for the escalating crime rate in Bristol Cove. (At least someone has taken notice.)
See Also
Plus, actress Eline Powell talks about shooting the powerful scene.
Inside Thursday TV: With Empire now between seasons, its star invites unsuspecting super-fans to New Orleans for a prank-filled series of mishaps in Fox's hidden-camera special, Terrence Howard's Fright Club (8/7c). Did we mention the regular TV season is over, leaving big holes to fill?… TV Land's Nobodies (10/9c) temporarily leaves Hollywood behind when Hugh (Hugh Davidson) and Larry (Larry Dorf) head to Austin to teach unauthorized "Groundlings"-style seminars to Texas business types. What could go wrong?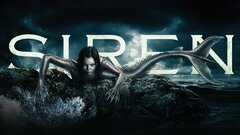 Siren
where to stream
Powered by