Sneak Peek: Ryn Discovers a New Human Emotion on Freeform's 'Siren' (VIDEO)
The more time Ryn (Eline Powell) spends on land, the more she's connecting with her human side and feeling different emotions.
In this exclusive clip from Siren's upcoming episode, the members of Bristol Cove are mourning a death which forces Ryn to tap into her own grief and open up about how her kind — mermaids — cope with someone's passing.
"Death is something all beings have in common. All creatures, human and animal will experience this and therefore experience loss. Mammals in particular are known to have a strong emotional reaction to losing a 'loved' one," Powell told TV Insider.
See Also
The mermaid drama premieres March 29.
"Ryn is naturally intrigued and interested by how humans express grief. Mermaids have their way of dealing with loss, and though rituals and traditions are different, the strong emotion of pain is one she recognizes. It was a very emotional episode to shoot, everybody — all the actors and extras — were really in the moment.
"Perhaps it's because everybody has a story about losing someone. For Ryn, this is a real eye-opener that not just Ben (Alex Roe) and Maddie (Fola Evans-Akingbola), but all humans, have qualities that she can relate to. It is a huge step in opening her mind to the possibility that perhaps we are not so different as we seem."
Watch the exclusive clip below:
Siren, Thursdays, 8/9c, Freeform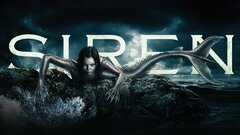 Siren
where to stream
Powered by