'Brooklyn Nine-Nine': Rosa Can't Fight Fate With Guest Star Gina Rodriguez (VIDEO)
Now that Jake (Andy Samberg) and Amy (Melissa Fumero) are getting married, we're ready to root for another Brooklyn Nine-Nine couple. Luckily, Sunday's Season 5 finale seems to set that up nicely!
And did we mention the one (potentially) getting some lovin' is Rosa (Stephanie Beatriz)… and with guest star Gina Rodriguez?! Not that she's looking for it. In an exclusive sneak peek from the May 20 episode, we see that, even with some of Terry's (Terry Crews) enthusiastic prodding, she's not open to dating.
Fate has a different idea as just as Rosa doth protest too much, the Jane the Virgin star rolls up in a car. Is this telling her something?
Watch the full preview below:
Also in Sunday's ep? "Jake and Amy's wedding day is majorly threatened, and Charles and the whole squad rush to help save it. Amidst the chaos, Holt hesitates to open the email that will indicate if he has won his campaign for Commissioner, despite Gina's encouragement." Be sure to tune in!
Brooklyn Nine-Nine, Sunday, May 19, 8:30/7:30c, Fox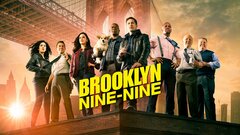 Powered by