How Did Arizona and April Leave 'Grey's Anatomy'? The Cast & Fans React
It finally happened. Arizona (Jessica Capshaw) and April (Sarah Drew) said their official goodbyes to Grey's Anatomy in May 17's Season 14 finale.
Their stories didn't have the sad ending that usually plagues departing Shondaland characters. Instead, things were left off quite promising with this pair as they decided it was time for a change in their lives.
See Also
New photos from the episode tease there will be blood.
Focusing on the catastrophe-filled wedding of Alex (Justin Chambers) and Jo (Camilla Luddington), the finale sent of two of their best with thoughtful storylines that include a wedding, a big move, and a change of career.
After last week's episode, which had April nearly perishing after a car accident, she decided to take her healing hands on the road to help the homeless. Her decision was, as she described, "doing God's work."
See Also
In the Season 14 finale, fans will say two more goodbyes to Arizona and April.
Meanwhile, Arizona revealed that she'd be moving out East to be closer to daughter Sofia's (Eva Binder) mom Callie (Sara Ramirez) and admitted that every time she gets a text from her ex, she smiles. So while Callie and Arizona's fate is left to the viewers' imaginations, they were left with a lot of potential.
Before the episode's end, April also got married to former fiancé Matthew (Justin Bruening) in a moment so sweet it had America collectively "aww"-ing.
So what did the cast and fans have to say about Arizona and April's exits? Find out below!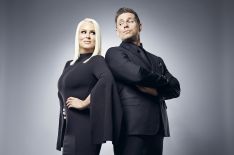 See Also
Plus, find out which of your other favorite shows are coming back next season.
The Stars
Y'all have no idea how much work we both put into these stories. The late nights, rehearsals & rewrites. The patience, frustration & tears. You didn't always love us. Somethings take time, effort & trust. #Japril will last forever for a reason. #ThankYouSarahDrew @sarahdrew pic.twitter.com/tZQfIee2Dk

— jesse Williams. (@iJesseWilliams) May 18, 2018
Radiant #GreysAnatomy @KellyMcCreary @JessicaCapshaw @sarahdrew pic.twitter.com/93g2LfCCRl

— jesse Williams. (@iJesseWilliams) May 18, 2018
I will never stop being grateful for the chance to work with @sarahdrew and @JessicaCapshaw. In April and Arizona, they created powerful unforgettable characters. ❤️ #GreysAnatomy #TGIT

— shonda rhimes (@shondarhimes) May 18, 2018
The Fans
THEY're PLAYING @SaraRamirez VERSION OF THE STORY. CATCH ME CRYING FOR THE REST OF MY LIFE #GreysAnantomy pic.twitter.com/KMRGXjydO1

— kort (@parrillascapshw) May 18, 2018
Not watching #GreysAnantomy finale because I'm not ready to say goodbye to @sarahdrew and @JessicaCapshaw 😭😭

— ℐazzy ♡ (@Jazzymariexo) May 18, 2018
#Calzona is endgame. Pass it on#GreysAnantomy pic.twitter.com/DXRk7ywJqD

— clexa's kid (@clexaslegendary) May 18, 2018
Farewell to April and Arizona, but thank you to @sarahdrew and @JessicaCapshaw Thank's for the immense joy, for the laughs and the tears, for #Japril, #Calzona and for #Aprizona !!!! ❤️❤️ The show will never be the same without these two amazing characters… #GreysAnantomy pic.twitter.com/hssTepiE1m

— scarlet witch (@moonydgt) May 18, 2018
Me after @GreysABC finale #GreysAnantomy I don't want April & Arizona to go…😩 pic.twitter.com/nQTu5YJKRO

— Jessica Bolton (@jessicambolton_) May 18, 2018
Grey's Anatomy, Thursdays, 8/7c, ABC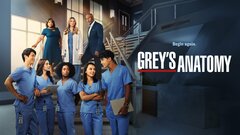 Powered by