The Ladies From TNT's 'Claws' Dish on Season 2 Changes, Their Mani Skills & More
Slay! That's the word on the gold chain hanging around the neck of fierce salon owner/money launderer Desna Simms (Niecy Nash) as she paces the Nail Artisans shop on the Claws set in New Orleans (doubling for Manatee County, Florida). It's also a fitting description for the hot TNT dramedy.
Produced by Rashida Jones and Will McCormack, Claws defied expectations when it premiered last June by being equal parts outrageous comedy (the show's fantasy sequences are over-the-top fun) and life-or-death drama (given the Mafia's piece of the action, murders are commonplace).
See Also
Take a first look at the new season of TNT's bawdy dramedy.
Claws also fell in line with TNT's successful string of edgy, female-driven fare (including Ellen Barkin's Animal Kingdom and Michelle Dockery's Good Behavior) and the first season, um, nailed it by averaging 5.4 million viewers per episode across multiple platforms.
"Viewers," says executive producer Janine Sherman Barrois, "found here a group of women who reminded them of the strong, diverse women that dominate their own lives — and who yearn for the American dream just like men do."
Those women? Frustrated Desna, stuck under the thumb of the Russian mob (more on them later), who leans on her workplace family, made up of con artist Polly (Carrie Preston), recovering alcoholic Jennifer (Jenn Lyon), steely Quiet Ann (Judy Reyes) and wild child Virginia (Karrueche Tran).
The ladies took a break from filming to chat about the new episodes, running in high heels and what real-life nail artists are saying about the show.
Last season, Desna and her crew wanted out of the money-laundering business, but the Russian Mafia sucked them back in. How are they handling it when the show returns?
Niecy Nash: Desna has leaned in and accepted that this is where she's at. She looked at these women and said, "Are you on the ride with me?" We'll find out in Season 2 who is and who isn't.
Karrueche Tran: Virginia just likes the money. Wherever the money is, she is.
How are the Dixie Mafia, led by Dean Norris's Uncle Daddy, doing with all the changes?
Nash: They are not done totally.
Carrie Preston: But they're being sat on, and they're not happy about it!
Is there time for romance with all the criminal mayhem going on?
Preston: Yes! Polly is with Dr. Ken [Jason Antoon] now and trying to walk the straight and narrow. But she's a con-artist identity thief who is chasing that dragon all the time.
Tran: Virginia is pregnant with Dean's [Harold Perrineau] baby, but does she have it? Does she not?
Nash: Desna has a new love, Dr. Gregory Ruval [Jimmy Jean-Louis], a new mentor in Russian boss Zlata [Franka Potente] and, of course, her old crew.
Jenn Lyon: You don't have to say old. We're of similar ages!
Nash: OK, seasoned! [Laughs]
Sheryl Lee Ralph is joining the show as Matilde Ruval, part of the Haitian Mafia and Gregory's mother. Is she friend or foe?
Nash: I would say frenemy. They used to have a term called nice-nasty when somebody is nice but they've got a little twang on the end of them…
Lyon: That was a song! "Nicety!" You're too young to know this, Karrueche. [All but Tran belt out "Nicety" by Michel'le] "Some people think I'm nice. Some people think I'm nasty, but if you really want to know, just ask me and I'll say, I'm nicety."
Preston: Well, and there might be a wedding at some point this season too.
Why do you think the series struck such a nerve?
Nash: You see women doing things that had typically been reserved for men in television. When you watched the Breaking Bads of the world or The Sopranos, it's always guys who were badass. These ladies are unapologetic. They are comfortable in their skin and they're vibrant. They're living full lives.
You have tons of celebrity fans too, including Stephen King, RuPaul and Kevin Hart.…
Nash: Tracee Ellis Ross and Chrissy Metz.
Tran: Snoop Dogg wants to get on the show.
Judy Reyes: I heard from Taraji P. Henson — she's a fan.
Running in heels is a normal occurrence on the show. Who is best at it?
Preston/Lyon: Karrueche!
Tran: I love it! It's fun.
Who has the hardest time?
Lyon: Niecy. [Everyone laughs]
Nash: Damn! [To Lyon] I was gonna say you!
Lyon: I wear flats!
Nash: I do have an amazing stuntwoman. [Laughs]
Who is the most like her character?
All but Nash: Niecy!
Tran: Momma, yeah.
Nash: I am the most like my character. If you don't have what you need, let me help you. Where were we when Karrueche said, "I can't wait until we get to the hotel 'cause I need a Band-Aid." And I said, "Right in my purse. I got Band-Aids and ointment. Now clean it properly before you bandage it up." I've been a mother so long, it's just a part of my DNA.
How are your manicure skills now that you have a season of filming under your belt?
Reyes: They can do it with their eyes closed!
Nash: We all went to nail school and ended up with an aptitude for certain things. I leaned right into acrylics. This is my jam. I've been getting this done since I was 13.
Tran: We also take it very seriously on set. It has to look real.
Reyes: There are way too many gel techs out there scrutinizing our show on Instagram and Twitter.
Really? So you do hear from them?
Preston: Yes!
Nash: I live in Los Angeles and as soon as I get off that plane, people recognize me from Claws and say, "Girl, let me see your nails!" I always have to feel prepared when I go out. It's pressure from people, because they expect your nails to be fly!
Claws, Season 2 Premiere, Sunday, June 10, 9/8c, TNT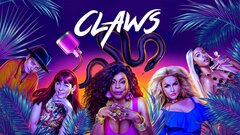 Claws
where to stream
Powered by