'13 Reasons Why': Get to Know Season 2 Additions Anne Winters & Chelsea Alden
If you've already started binging Season 2 of Netflix's wildly popular series 13 Reasons Why, you may be wondering about two of Liberty High's newest faces. And if not, we've got some early scoop for you!
Now streaming on Netflix, Season 2 continues the story of those wrapped up in Hannah Baker's (Katherine Langford) tragic suicide, while her parents take the school to court. But in the pursuit of justice, yet another mystery comes to light as new characters come into play.
See Also
The actor plays Tony Padilla in the hit Netflix series.
This is where Anne Winters and Chelsea Alden come in as Chloe and Mackenzie, respectively, two of the new additions to this talented young cast. Both will play important roles in Season 2, with Winters' Chloe sharing scenes with resident jock (and Season 1 rapist) Bryce Walker — played by the much kinder Justin Prentice — and Alden's Mackenzie teaming up with Devin Druid's Tyler.
TV Insider spoke with both stars ahead of the show's second season to find out more about their characters, the controversy around Season 1, their own fandom of the series, and more.
Tell us a bit about your characters. What can fans expect to see from them this season?
Anne Winters: I'm Bryce's girlfriend, [Chloe], and I have a completely different view of Bryce than what people saw last season. I think it will give insight about how not everything's so obvious — things may seem to the outside world that there's a bad situation but, people may not see what everyone else sees and I think that's kind of what Chloe struggles with this season. [She struggles with the] battle between what she thinks is right or what she thinks is wrong and doesn't really know quite what to do.
Chelsea Alden: The thing I love about Mackenzie and kind of what you'll learn is that she sort of comes in with this fresh attitude, you know, she really stands on her own two feet and she really has her own opinions about life. I think a lot of people are gonna relate to Mackenzie for feeling free to have her own opinions and she's also very non-judgmental and so much of the show revolves around bullying and judgment of other people and how that effect ends up playing out. So I think it's going to be really nice to have a character who's just artistic and has her own way of thinking and I think it's gonna be really refreshing for audiences.
See Also
Stars Dylan Minnette, Katherine Langford and more speak out on mental health.
Were you a fan of the show or book prior to being cast?
Anne Winters: Yes, I read the book so long ago, and I actually originally auditioned for it as Hannah on the first season, and then when I even saw that they were making it into a show, I was like, 'That's such a great idea.' So I've been a fan of the whole idea and concept from the beginning.
Chelsea Alden: I had definitely binge watched the whole first season long before I was cast — I think I watched the whole thing in three or four days. And it was interesting because I knew there was so much controversy and so many differing opinions about Season 1, you know, it really blew up.
So I actually waited a little while to dig into it, so that I wouldn't be colored by what other people were saying or other people's opinions and when I finally did sit down to watch it, I just absorbed it, I couldn't stop watching it. I just think it's a really really well told story, and the cinematography on the show is beautiful — I think it really helps just the overall tone and I think it's part of what makes the show so spectacular.
Why do you think 13 Reasons Why is such an important show?
Anne Winters: It just doesn't sugarcoat anything, and a lot of teen shows out there — I feel — make teenagers look a little bit… not dumb but just not realistic as to real issues that are going on. I think we don't really know what teenagers are actually going through and brush them off as just kids. But there's real things going on in so many teenagers' lives that I feel like it's a very important show that depicts actual problems people are going through and maybe can shed light on how to prevent them.
Chelsea Alden: We're living in an age where 15 years ago or so, if you went to high school, and you went to a party, and somebody took a picture of you with a film camera it would take them maybe two weeks or a month to develop it. Then they would kind of forget about it, there'd be one copy of it, maybe you'd show it to one of your friends, and that would kind of be it. But as is the case with Hannah, one picture can be misconstrued and then sent to an entire school instantly, and that's the age that we're living in now.
And I think that makes high school, middle school — anything — so much harder to exist through, and that's what's so important about this show, it's really demonstrating just how kids have to live though life right now. And how easy it is to tear someone down in a second, how our actions have some really severe consequences, and you know, that applies then to bullying. In this case of the show, we really touch on sexual assault and I think Season 2 is really going to delve into a lot more of the repercussions of what happened in Season 1 — the aftermath.
13 Reasons Why, Season 2, Friday, May 18, Netflix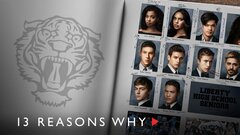 Powered by