How Did 'Roseanne' Tackle the Opioid Crisis in a Surprising Episode? (POLL)
Since its premiere 30 years ago in 1988, Roseanne has never shied away from tackling important and relevant issues — and Season 10's penultimate episode was no exception.
In the episode aptly titled "Netflix & Pill," it's abundantly clear that our title character is in trouble. Beginning with her entrance to the Conner family kitchen, Roseanne (Roseanne Barr) tells her husband Dan (John Goodman) that there's a problem.
"My knee is killing me, and a bunch of my pain pills are missing," Roseanne says, shaking a bottle.
Throughout the entire revival season, Roseanne has been complaining about her bum knee — a hint that is suddenly a big red flag as this episode progresses. Jackie (Laurie Metcalf) notes that they need to figure out who took the pills due to the country's serious opioid problem.
Before the revival premiered, Barr revealed that the show would tackle the opioid issue plaguing America today, but the shock of finding out that it's Roseanne herself who's been abusing drugs is almost too much to comprehend. Dan picks up on the issue when they celebrate their 45th wedding anniversary by drinking some champagne and eating their free honey baked ham.
See Also
Her character must confront her prejudice in the new 'Go Cubs' episode.
When Roseanne begins acting drunker than she should be with a couple of drinks in her system, Dan questions her state, and with little inhibition Roseanne reveals she has secret bottles of pain pills all over the house. The next morning, Dan confronts her at the kitchen table.
"It's not like I'm a drug addict," she says.
Dan isn't satisfied though. "All lies. 45 years of marriage, you've never lied to me like this before — or have you?" he questions.
See Also
The ABC revival doesn't shy away from much.
Roseanne justifies her behavior by telling Dan how much pain she's in and that the pills are a way to cope with her predicament — the Conners can't afford surgery for her knee. "I got these pills because I'm going to be dealing with this for a long time," Roseanne states.
When Dan tells her to book the surgery, it seems like maybe things will get better, but when she's left alone to ice her knee, she unscrews the cover to the old-fashioned plastic pain aide and extracts another stash of pills.
What could this mean for the Conner matriarch? Hopefully, some more answers will be given in the finale airing May 22, but until then, let us know what you thought of the episode and its handling of drug addiction in our poll below!
Roseanne, Season 10 finale, Tuesday, May 22, 8/7c, ABC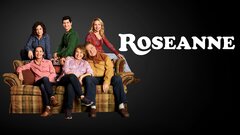 Powered by