'Roseanne' Episode About Muslim Neighbors Was Barr's Idea, Says EP
The Tuesday, May 8, Roseanne episode, titled "Go Cubs," has a specific mission in mind: to promote tolerance and acceptance.
The upcoming episode centers around the Conner family's next-door neighbors, who happen to be a Muslim family. Roseanne, out of fear and ignorance, believes they're plotting to build a bomb out of fertilizer near their garage.
See Also
The comedian was once married to the show's star, Roseanne Barr.
But Roseanne must confront her prejudice when she asks her neighbors to use their Wi-Fi to help her granddaughter. Ultimately, she realizes there's much more to the family than her first impression.
And the storyline for the episode was actually Barr's idea, according to co-executive producer Dave Caplan.
"She wanted to get a comeuppance for her own bias," Caplan told EW, adding, "that was her idea."
Since airing, Roseanne has held steady with strong audience numbers, but Barr's behavior on social media has raised some eyebrows. Recently, she's publicly fought with Stormy Daniels on Twitter in support of President Trump.
Roseanne, Tuesdays, 8/7c, ABC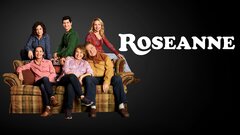 Powered by