'The Young and the Restless': What's Next for Jack Now That He's Not an Abbott?
Jack Abbott's really regretting that "only a blood Abbott can run the company" clause he established in light of finding out that John's not his biological pop on The Young and the Restless.
We asked three-time Daytime Emmy winner Peter Bergman, Jack's portrayer, what this means for his character's future. Read on to get the scoop and insights from one of daytime's most thoughtful actors!
See Also
The CBS soap celebrates the big milestone this week.
Paternity twists have been a staple on Young and Restless, since the show's inception. What are your thoughts on Jack not being John's son?
Peter Bergman: What's specific about Jack having this issue is how much Jack identifies as being John Abbott's son. Jack's name is 'John Abbott.' For years after John died, Jack had conversations with him all the time about what he'd do in a given situation. He was Jack's best friend, the man who taught him how to be a man. He was all of that. So, needless to say, Jack is thunderstruck!
Jack's desire to win back control of Jabot Cosmetics in the '90s was all because of his father.
Yes. Jack had screwed everything up. John forgave Jack and he waited patiently while Jack rebuilt it to give it back to his father. This is so much more than, 'Oh, maybe somebody else is my dad?'
Jack has said to Ashley (Eileen Davidson), who is also illegitimate, that she's John's child in every way that counts. Now, Jack has to live by those words.
Yeah, he's not ready for that. He can say that to Ashley and believe it, but his situation just seems different. She wasn't walking around trying to be John Abbott.
See Also
'I'm definitely going back there,' the actor says about a possible return to The CW series.
Viewers immediately started weighing in on this story before it has fully played out. Is that a pitfall of social media?
I think, on some levels, fans have always done that. There are no secrets anymore. Rather than try to keep secrets, let's let the audience in on it, give them the secret, let them imagine how it's going to play out. And then, show them how it truly plays out.
One thing that's curious is that Jack's mom Dina (Marla Adams) calls Jack 'John.'
Can I explain why Dina does this? Absolutely not. But I can tell you our writers have researched this. They have talked to experts. It might be a really informed choice. So maybe this is not an uncommon thing.
Right, but as Jack is not John's son… why does Dina mistake him for John?
Hopefully, the audience is thinking the same thing you are thinking. Hopefully, the audience is saying, 'Wait, there's a wrinkle here.' Wrinkles are great.
The fun is in watching them get ironed out.
People ask me, 'How do people get hooked on soap operas?' Here's how: You go to college and your roommate has always watched a show. You start watching, too, and you ask, 'How can all this happen to one person?' Then you find yourself watching two episodes in a row and becoming involved. And you say, 'Wait a minute. Didn't that character just say yesterday he loves someone else?' You see incongruities. The audience wants to get in there and find out the truth. We're going to give them lots of opportunities to do that.
How does all this affect Jack's relationship with Kyle (Michael Mealor)?
Jack's been trying to wedge Kyle into the Abbott family and, suddenly, that doesn't have the same value. Kyle has felt disconnected from his family his whole life. Maybe they're not that different? Incidentally, Michael was six weeks into the job and I started to see his wheels kick in. In a scene where we're about to take Dina to the screening, Kyle comes in and Jack gives him John's cufflinks. All of this is right after he couldn't get the memory stick back from Victor (Eric Braeden). And just as Kyle's headed out the door — not written in the script — he stops and looks at the cufflinks.
See Also
Louise Sorel's character was seemingly killed in a gun struggle in Thursday's episode.
Maybe he's torn over his alliance with Victor? Smart choice.
It's a smart choice for a guy who's been on our show for two years. It's a great choice for a guy who's been on the show for about two months! I am very impressed.
What's next for Jack? He's been known to go to some dark places.
There are a number of things. If you spend your life trying to be John Abbott, you're on your best behavior. Jack's now asking himself, 'Why am I trying to be such a good guy?' I don't know where we're headed but I think [going to dark places] is an interesting idea. Jack's had to take some of his own medicine. It's been a very good thing. Who is Jack without all this stuff?
The Young and the Restless, Weekdays, 12:30/11:30c, CBS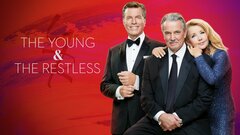 Powered by