'Shadowhunters' Midseason Finale: Showrunners Answer All the Big Questions
[Spoiler Alert: Do not read ahead if you have not watched the 2-hour midseason finale of Freeform's Shadowhunters]
Whew! Okay, we knew big things were coming in the Shadowhunters midseason finale but, man, did anyone that coming?
We could pontificate about what it all means across the board and then nitpick about Simon's (Alberto Rosende) powers, Magnus's (Harry Shum Jr.) loss of his abilities, and how Jace (Dominic Sherwood) is going to go on with Clary (Katherine McNamara) supposedly dead! OMG!
To get the lowdown on some of those questions and a few more, showrunners Todd Slavkin and Darren Swimmer answered our inquiries via email about the midseason finale, what it means, and what season 3B could look like for our team. Here's what they had to share.
Did you always plan to have Valentine (Alan Van Sprang) — or an undead version of Valentine — return? And can the undead survive without a rib?
The undead has no need for ribs. And yes, we were always planning on having our friendly father return. In the books, Clary created a necromancy rune on a Shadowhunter soldier. We thought what a great way to use it in the show. The idea that Clary draws the rune on her dead father — her father that she murdered — in order to get vital info on Lilith (Anna Hopkins) really got us excited. And the fact that Valentine turns into this unkillable monster because of her rune put this episode over the top with awesomeness. Shout out to the brilliant Shadow World writing team
What will bring Simon more grief and guilt next season — saying goodbye to his family or (going by what he says) killing Clary?
Poor Simon. He has a lot to mourn. But not to worry. His journey in Season 3B is an inspiration to anyone who's been at their lowest and somehow, someway, manages to climb back on their feet. Alberto Rosende is magical.
You can't have a midseason finale without a great Malec scene or two… has Magnus lost his magic temporarily or permanently, thanks to his father helping with some dark magic?
We don't want to spoil exactly what's up ahead but we definitely explore a Magnus Bane without magic, without immortality. His arc in 3B is one of the best things we've done on the show and Harry Shum commits in a deep way. Fans are going to freak.
Could we see Magnus's father again? I would love to see more of that complicated relationship!
Hell yes, you will see Asmodeus again. And that complicated father-son relationship will be further explored.
Is Jace really back to being Jace or are there residual effects from being under Lilith's control?
The residual effects are his emotional health. How does one get over the fact that he murdered his grandmother, his last living relative? Not to mention trying to kill Clary. Jace will never be the same.
Backing up, the Jace/Alec fight was brutal! On a scale from 1-10, how fun was it crafting that battle?
13!
I don't think I'm the only one noticing the chemistry between Luke (Isaiah Mustafa) and Maryse (Nicola Correia-Damude). Any potential for romance there? (Luke needs some action!)
More than potential. It's happening! How can it not?
Simon's powers are strong enough to kill the Queen of Hell. Will he soon find out more of what he's capable of?
The curse of that mark on his forehead is something we delve into in a deep way in 3B.
Lilith may be gone but is there more story for Jonathan (Will Tudor)?
Um, yeah.
One word to describe the second half of season 3?
OMFXGJFRHYJEDHY
Shadowhunters returns later this year with the second half of season 3, Freeform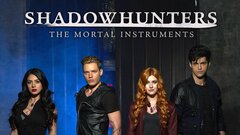 Powered by