'The Originals': Hope Still Isn't Safe From Danger
Just because Hope Mikaelson (Danielle Rose Russell) is back at the school for supernatural kids, don't expect her to be safe from danger… or to not cause it herself.
After all, the vampire-werewolf-witch mix began to bring bad things down on her family and New Orleans because she missed dad Klaus (Joseph Morgan), who was keeping his distance to stop the evil spirit Hollow from possessing her again.
See Also
'The Original's spinoff series is premiering this fall.
"Hope's actions to get Klaus home have had serious consequences," says Russell. For example: the disappearance of Hope's mom, alpha werewolf Hayley (Phoebe Tonkin), who returns this week. While she reveals who took her and why, Hope gets mixed up in some worrisome drama at the Academy that might just draw Klaus back.
"The anticipation this season has been what happens when her family reunites, which will activate the Hollow's takeover of Hope," Russell says. Klaus's latest need to help his daughter just might bring about that very fear.
The Originals, Wednesday, May 23, 9/8c, The CW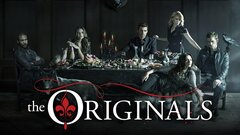 Powered by