'Agents of S.H.I.E.L.D.' Star Jeff Ward Previews Season 5's Remaining Episodes
Last week's episode of Marvel's Agents of S.H.I.E.L.D. blew the roof off. Literally.
As Coulson (Clark Gregg) and the newly-changed Talbot (now Graviton, played by Adrian Pasdar) ascended through the ceiling, the team watched and realized that they're about to face a whole new challenge. You know, aside from the alien overlords and future possibility of Earth's destruction.
We chatted with Jeff Ward (who plays futureman Deke Shaw) about the May 4 episode, "The One Who Will Save Us All," and what's on deck as Season 5 wraps up later this month.
See Also
And Clark Gregg & Chloe Bennet discuss the 100th episode.
What can you tell us about "The One Who Will Save Us All"?
Jeff Ward: Agents of S.H.I.E.L.D. are in it. No, kidding. [laughs]. You're going to get some more Talbot-Graviton stuff, which I think are some of my favorite scenes. The next three episodes, in fact, are three of my favorites this season. It just felt like such a satisfying close after everything that's happened over the last 19 episodes. In the next three, you're going to get a lot that has been building since Season 1.
And you'll also get some more Deke stuff, and see how the team is kind of reeling without Coulson again and looking to Daisy [Chloe Bennet] to keep up that leadership role that she's been dragged into.
Are we ever going to see Daisy warm up to Deke?
I think you'll see an answer to that question soon. I'll say this, you'll see some more lemons. I love the lemons – it's one of my favorite things that the writers came up with as a Lighthouse tradition, so I was very excited that the lemons make a small comeback.
What kind of an obstacle is Talbot now as Graviton? Is he on their side or not?
That's precisely the question running through their minds. They know this guy, and he's been a hardcore ally to them for a long time. Above that, he's Coulson's only real friend, I think.
There's a truly, really beautiful little friendship between Coulson and Talbot that I love. Coulson and Talbot's friendship is a big obstacle because it confuses everything. They don't know if they just met a new foe, or met someone who could be the greatest ally they've ever had. In the next three episodes, that'll all come out.
And how's the rest of the team dealing with these latest developments? Yo-Yo (Natalia Cordova-Buckley) and Daisy were really going at each other last episode.
Yo-Yo is going through a lot. Obviously what Yo-Yo did to Ruby [Dove Cameron] and how Daisy reacted is still at play. Daisy still feels like she's in charge and what Yo-Yo did to Ruby could have serious, literally earth-shattering, consequences.
And it's her team right now, so I think you'll see some more fallout from that and how everybody is dealing with that, even how Mac [Henry Simmons] is dealing with that. I think because Daisy is in charge and that's new for everyone it's kind of like, 'Okay, so all of the sudden we're listening to you?' So, there's more of that dynamic to be explored.
For the FitzSimmons fans, over the next few episodes there are some major events for them. I promise people will have some feelings about the finale.
See Also
Josh Stewart and Giorgia Whigham are also joining the series.
What does this year's finale look like? What's this all building towards?

The finale episode is one of the most epic episodes and one of the times that the show really matches the scope and scale of the movies. There's some huge, crazy-big stuff happening.
How was it being the new guy on set this season?
It was great. Everybody is so unbelievably talented, smart and kind. Over the last five years they've become each others family. You come onto a show like that, very often it's super uncomfortable to try and have a place in that family that's existed for so long, but everybody immediately welcomed me with open arms.
And then about halfway through the season, they realized I was the most fun target out of all of them. They all started ripping on me pretty hard and that went through the rest of the year. I don't mind it; it's how I am with my friends. So that actually makes me more comfortable.
But yeah, Clark [Gregg] told me every day that I was getting fired, so that was a fun joke that he would always tell. He said I was the first character who was going to get killed off during a table read, which was really, really sweet of him to tell me every single time we had a table read. But, everyone is wonderful.
See Also
The service launches later this year.
After this season's finale, is there a chance we'll see Deke in Season 6, if the show gets renewed?
The next couple of episodes will set up that question even more. Hopefully, we'll have to get a Season 6 in order to resolve it.
Marvel's Agents of S.H.I.E.L.D. airs Fridays, 9/8c, ABC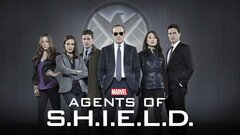 Powered by