'Man Seeking Woman's Britt Lower Talks Falling for Santa Claus in This Year's 'Woman Seeking Man' Episode
FXX's ludicrously unhinged Man Seeking Woman is calling leading lady Britt Lower up to bat for the second annual Woman Seeking Man episode. Last season, her overworked character Liz tried to create the perfect man Frankenstein-style and went on a date with a robot named Chip, all before her 30th birthday. This year, Lower dishes on what to expect when Santa Claus comes to town in this holiday-filled ho-ho-ho-fest titled "Tinsel."
What's going on with Liz in this episode?
Liz falls for an older, married man who's very successful and beloved. He happens to be married… and he also happens to be Santa Claus. She goes down that pathway of falling for a man who is unavailable.
And Mrs. C isn't too happy about that.
Yes, the very brilliant and lovely Robin Givens portrays the very fierce and powerful Mrs. [Vicki] Claus in the episode. What we were really excited about is, Liz who is an alpha-female and a very strong career woman is confronted with this other woman who has also built quite a career for herself. I love the scenes between the two of them because they're so charged, and yet I think [they] really meet one another with a level of respect that you don't see very often, especially between two women who are in love with the same man.
What brings Santa and Liz together in the first place?
He accidentally delivers a present to her condo in Chicago that was meant for a little girl who used to live there. It was like a Barbie Dream House and, just by chance, Liz lives there now. It's like a celebrity sighting [for Liz] and there's this glint of attraction between them that they decide to pursue. She's attracted to his success, this well-established man who can fix a toy—he fixes her record player at one point and she's just titillated by it. It's a fantasy through and through, but she decides to follow it anyway.
And this doesn't go well, as most things on the show.
Right. This show is kind of like waking up inside of a dream, and you're not sure if it's going to be a fantasy dream or if it's going to be a total nightmare, and oftentimes, it's both. So yeah, it starts out for Liz as this exciting, new crush, and it dissolves into this scary, real, adult thing that she's participating in.
Why do you think Liz has trouble finding love?
She's like the flipside of Jay's character, Josh. He's not at all concerned about his career path; more concerned about his social life I'd say, and Liz is the opposite. She's put all her eggs in the lawyer basket. She has very little time to think about socializing or finding love, and I think when it literally falls into her apartment, she decides to play the devil-may-care card for a little bit, which isn't her M.O.
It's really creepy because it's Santa, but that's also what makes it so great.
Totally. It's totally creepy because it's Santa, and the show's so fun because we as actors go to set and we have to give ourselves a really strong as if. When we're in a scene with the blind prophet Tiresias, or an automobile, or an alien, or a clone, or Santa Claus, we have imagine that that's not Santa Claus. For us, it's George Clooney who I'm falling for.
Was Clooney the example you told yourself?
There were a couple of different examples but yeah, George Clooney works! Like a silver fox, and to be fair, Peter Giles, who plays Santa, is an absolutely handsome fellow. It was nothing to say of his attractiveness—it was just that we was wearing a Santa outfit.
How did these episodes come about?
They came as a surprise to me, actually, and a pleasant one at that. I think it was something that the writers worked really hard on to incorporate into the first season and we're really excited to bring another one back for Season 2.
Man Seeking Woman airs Wednesdays at 10:30/9:30c on FXX.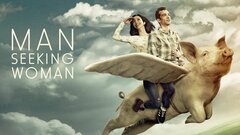 Powered by