Man Seeking Woman Gets Ambitiously Vulgar for Season Finale
Since its January debut, FXX's Man Seeking Woman has given viewers everything from a Japanese penis monster to a destination wedding in hell. But it'll all come to a head in tonight's Season 1 finale, when the show's love-challenged protagonist Josh (Jay Baruchel) lands himself in an alternate universe.
"Josh damages the space-time continuum," creator Simon Rich explains. "As a result, the lives of all our characters change drastically, in heartbreaking and disgusting ways." Instead of the sporadic scene-jumping that the show has utilized for most of this season, "Scepter" mostly takes place in an overarching fantasy world. "It's kind of like a Ghost of Christmas Past kind of episode where Josh is time traveling and screwing with the past and it alters – butterfly effects – everything in the future with catastrophic consequences," says Eric Andre, who plays best buddy Mike.
While Mike isn't exactly high on the food chain in this alternate reality ("I'm a sex slave to a Jabba the Hutt-type of overlord," Andre reveals), Josh's sister Liz (Britt Lower), who got the spotlight in last week's episode, is the leader of the rebel force against this reality's ruler: King Trackanon, the evil alien overlord of Earth.
As the finale's Big Bad, Trackanon is the series' most interesting creature to date. Like the other monsters this season, it's the work of head creature-maker Paul Jones. The seven-foot-tall, flesh-colored alien made of foam latex, polyurethane, and a coating of homemade slime (a combination of water and food thickener) is "an amalgamation of lady parts and testicles with one giant eyeball at the center, and two tiny little vestigial arms on the outside, and silicon fins," Jones says. "It had to look like a big blob of blubbering sex fat."
Jones and another puppeteer controlled the creature from the inside. Trackanon gets very, erm, physical with Andre. And how did Andre feel about all of this? "Trackanon was a g–damn dreamboat to work with," the actor jokes, "It's like working with a f-cking Robert Duvall to say the least – to say the most."
The finale, which is shaping up to be just as insane as the rest of the series, won't be the last you see of the show: the bizarre, surrealist comedy has already been renewed for Season 2, which Rich says will involve, "terrifying monsters, life-or-death disasters, and probably some pretty awkward dates."
Man Seeking Woman season finale, Wednesday, March 18, 10:30/9:30c, FXX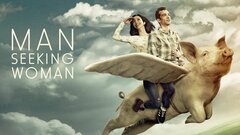 Powered by