First Look: What Will Jeremiah Valeska's 'One Bad Day' Mean for 'Gotham'? (PHOTOS)
We're nearing the end of Gotham's fourth season, so expect plenty of game changers in the next couple of weeks.
And you don't have to take our word for it — we have the picture proof! The below exclusive photos from May 10's "A Dark Knight: One Bad Day," show that the penultimate episode of Season 4 will be heavy on Jeremiah Valeska (Cameron Monaghan).
See Also
The actor talks 'Barry's Hank, 'Gotham's Victor Zsasz, who has left him starstruck and more.
Surprisingly, the logline for this ep fails to mention Jeremiah, but the reference to "complete anarchy" may hint at his involvement: "As Gotham falls into complete anarchy, a team of unlikely heroes step up to save it. Bullock (Donal Logue) takes the lead at the GCPD and Bruce's (David Mazouz) psychological limits are tested as those close to him are put in danger."
In recent episodes, we've seen the city heading toward chaos, with teasers that The Joker will be part of this ultimate downfall. Though the Gotham producers won't call Jeremiah The Joker yet, the title of this chapter is very telling.
"One Bad Day" seems to be a reference to the DC Comics graphic novel, The Killing Joke, which explores The Joker's origin and psychology. The idea is that he's, in fact, a tragic character who suffered "one bad day" that drove him insane.
Does that mean this episode will show the rise of the latest Gotham villain? We'll have to tune in to find out, but these photos certainly tell a story…
Gotham, Thursday, May 10, 8/7c, Fox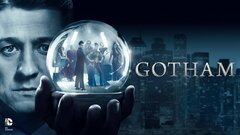 Gotham
where to stream
Powered by