WATCH: Wyatt & Flynn Clash Over Lucy on a New 'Timeless'
Is the Wyatt-Lucy-Flynn love triangle heating up — or, perhaps, about to come to blows — on Timeless?
It's definitely gotten complicated since Wyatt (Matt Lanter) and Lucy (Abigail Spencer) acknowledged their feelings for each other, slept together and then found out that Wyatt's dead wife, Jessica (Tonya Glanz), wasn't so dead. Oops!
See Also
This was also her final episode on the series.
Things cooled between the new pair, and now Wyatt is dealing with his complicated feelings for both women while also still trying to keep those Rittenhouse baddies in line as much as possible.
However, with Wyatt distracted, Garcia Flynn (Goran Višnjić) has been inching closer to Lucy, with whom he does share a nice connection.
As a result, in the April 29 new episode "Mrs. Sherlock Holmes" — which takes our team of time travelers to 1919 New York City amid the backdrop of the women's suffrage movement — Flynn and Wyatt have some words over Lucy, and they're not friendly ones.
Is it up to Wyatt or Flynn who Lucy winds up with, or does she actually have a say in this? Check out this exclusive preview clip from the episode and see what you think:
Timeless, Sundays, 10/9c, NBC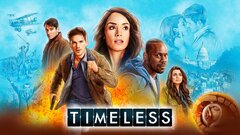 Powered by