Drake Bell Talks 'The Challenge: Champs vs. Stars' and 'Drake & Josh' Reboot Potential
"Exciting." "Emotional." "Funny." That's how Drake Bell is describing Season 3 of MTV's The Challenge: Champs vs. Stars.
The actor/musician is part of the newbie crew of celebrities that face off against MTV Challenge OGs like CT and Tony, who arrive ready to compete and play the long game — something the stars aren't prepared for at first.
See Also
This new season is sure to entertain.
"There's never a dull moment," Bell teases as he hints at onscreen romances and a lot of psychological warfare. Hey, all is fair in the name of $150,000 for charity.
Before the Tuesday night season premiere episode, Bell chatted with TV Insider.com about how he adjusted to a reality show, who his biggest competition was, and what he thinks would be a great way to reboot his early 2000s Nickelodeon sitcom Drake & Josh.
TV Insider: How is being on a reality show different for you?
Drake Bell: This environment is so different from what I'm used to. I'm such a fish out of water. All in all, the experience was awesome. They've got such a great cast this season. We made great friends on that shoot and we're all keeping in touch.
[Producers] kept us sequestered. They took our phones away. We had to stay at this hotel. They did a very good job of keeping us under lock and key.
What edge do you have over the other players?
Being unassuming … I'm standing next to big, tall guys who are ripped and strong. Then you look at me and you're like, "How is he going to compete with these guys?" I think I was able to stay invisible and not be the target.
Who's your biggest competition?
Wes. I can handle the physical challenges pretty well, but there's that mental aspect of the game — all the psychological stuff that came along with it.
I was thinking that whoever won the race gets the money and moves on to the next challenge. I was unaware of how much the physiological game comes into play. Wes being very experienced at that part of the game had a huge advantage over me. That caught me off guard.
Any confrontations with certain players?
I didn't really butt heads with any specific player. My only butting of heads was with the concept as a whole. I was unprepared for such a mental game.
The long days and the physical challenges were exhausting, but getting back and then the mental game starting — that was way more exhausting. The texts, the calls, the secret meetings, I was like, "I have to approach this game from a completely point of view." I was trying not to have a target on my head, not be confrontational.
Any romance in the house for you?
Not for me, but it'll be revealed that there was some romance happening with other characters.
Can you tease your new music coming out?
On Monday night I was in the recording studio until about 5:30 in the morning with Lil Mama. There's a song I was playing for her on The Challenge, and I was saying how much I'd love to get her on it. Then, we got out here to New York and collaborated.
She blew my mind — she was sitting there writing as she went. I'm really excited about that song coming because she took the song to the next level. So I have that and a few other songs I've been working on.
See Also
Plus, 'Party of Five,' 'Facts of Life,' and more keep on coming.
You've said previously you're open to a Drake & Josh reboot. If it happened, where would the brothers be today?
I've always thought Drake would most likely still be living at home. I think it'd be really funny if it was something like Josh Nichols (Josh Peck) had this great job in a big city and was successful, then cut to Megan (Miranda Cosgrove) and she's maybe away at college, and it goes to Drake Nichols and I'm laying in bed, still at home. It could be a movie or a special episode where Josh and Megan come home for the holidays and whatever comedy ensues.
What I would love to do with Josh is come back and do new stuff. Like buddy comedies inspired by John C. Reilly and Will Farrell, Vince Vaughn and Owen Wilson stuff. Basically what I see with Josh is like The Odd Couple.
Also, what I thought what would be really funny for me and Josh — and I had this idea for a long time and then a show came out about it — either Josh or me got a girl pregnant or something ends up happening where we have to raise a child, so we end up being two dads. Like Three Men and a Baby but with Drake & Josh comedy.
The Challenge: Champs vs. Stars, Tuesdays, 9/8c, MTV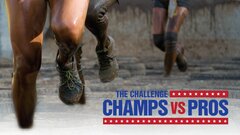 Powered by