'Angie Tribeca's Andrée Vermeulen on Why Her Character Is 'a Human Robot'
If you missed Angie Tribeca's epic 25-hour binge last Sunday, fret not! Tonight TBS begins airing the episodes in a more traditional format, Mondays at 9/8c, in what the network is cheekily calling "all new for a 2nd time."
But whether you've already downed the whole season or you're tuning in for the first time, one thing's for sure: you're going to take note of breakout Andrée Vermeulen. As the lab technician/medical examiner Dr. Scholls, she steals each scene she walks into with her straight-faced absurdity. So we caught up with Vermeulen, post-binge, to digest the season.
How do you describe the show's tone? It can be tricky to explain to people.
Yeah. Well, it's certainly in the vein of Naked Gun or Airplane!, which we haven't seen in awhile. So I'd say it's a very silly comedy that's played like a drama. There's nothing cynical in our jokes. It's very light-hearted, and I think the key to it is not pointing to the jokes, and that's what makes them even funnier.
What is your stance on the crime shows that you're parodying?
I feel like Law & Order is so hard not to watch, especially when they play them in a marathon. I don't know what it is about it; it's just so easy to fall into watching episode after episode.
Would you ever do a spot on one of the shows Angie's parodying? Like be the dead girl on SVU?
Well, I wouldn't want to be the dead girl because then I won't have any lines [Laughs]. But I would certainly be a guest star on any crime drama, for sure. That would be so fun, and I feel like it would be really easy to slip right into it.
RELATED: 5 Reasons to Love Angie Tribeca's Rashida Jones
Did you model Dr. Scholls after any lab technicians from those shows in particular?
I didn't, and I wish I did because it would be more of a fun answer. I honestly approached it from a very sketch comedy mindset. Initially, when I went in for the role, I thought I was kind of wrong for the part because Scholls is like a human robot. She's just so cold and anti-social and strange, and I am used to playing kind of sillier, bubbly characters, and that's certainly closer to my personality. So when I went in I thought, "Okay, this character, who is she? What does she look like?" And I actually put together that whole look. I put glasses on, I put my hair up, I wore black and white, and that ended up being the look for the show—which is so funny to me because I was basically just treating it like a character in a sketch.
What did you make of the show's atypical binge roll out?
I thought it was very daring, actually. I think it was really smart because in order for people to get on board with the show, it's important to understand the tone and the type of comedy we're doing. I think watching several episodes in a row really gets you in the world of it, as opposed to just watching one episode.
From the response you've gotten from people, does it seem like they watched the whole thing in the marathon?
It seems like people did binge it. Apparently we were one of the top ten hashtags throughout the whole marathon and then during primetime, we were one of the top two hashtags in the country. So that tells you that people are watching it and talking about it.
Did you binge it yourself?
I did, but the next day because that night we had to do the live telethon, and by the time I was finished with that… I went into hair and makeup around noon and then I was done at eight. It was a very long day, and then I just wanted to eat pizza with my boyfriend and go to bed.
Angie Tribeca, Series premiere, Sunday, Jan. 17, 9/8c, TBS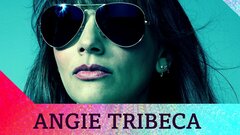 Powered by