'Civilizations' Series Premiere: 4 Highlights from the Show
In 1969, BBC debuted Civilisation, its celebrated chronicle of the history of Western art. Now, that portrait is being updated and expanded for PBS in a new nine-part series narrated by Liev Schreiber.
Using cutting-edge technology, Civilizations explores aesthetic treasures across the globe, like Itimad-Ud-Daulah's Tomb in India. We curate some of the highlights:
1. ZOOMING IN
To offer a better-than-bird's-eye view of Petra, a 2,000-year-old architectural site in Jordan, the crew turned to—what else?—drones. Says executive producer Jane Root, "It allowed us
to film details that nobody has seen since the person with the chisel carved them!"
2. GLASS ACT
One of the world's largest jibs (i.e., a giant crane rigged with a camera) was used to capture stunning images of the stained glass in the Chartres Cathedral, France's Gothic masterpiece.
3. GOING WAY BACK
The doc showcases the oldest known example of artwork: handprints on French cave walls dating back at least 37,000 years. "We believe they used ochre paste—which you find in rocks—to make stencils," Root says.
4. VIP ACCESS
The producers convinced conservationists in Pakistan to remove the scaffolding from the Lahore Fort Picture Wall, a 1,400-foot structure undergoing restoration. "It took days," Root says. "They loved the idea of being part of a series called Civilizations!"
Civilizations, Series Premiere, 8/7c, PBS (check local listings at pbs.org)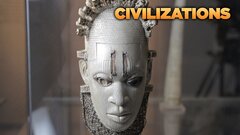 Powered by