'Supergirl''s Universe Expands With New Comic Book 'Adventures'
If you can't get enough of the Supergirl TV series, DC Comics is here to help. Beginning Monday, Jan. 25, the publisher is launching a new digital comic series, Adventures of Supergirl, based on Melissa Benoist's on-screen character."We're telling a story that takes place in the Supergirl TV universe," says Sterling Gates, who is writing the 13-chapter series. "The goal is to expand Supergirl's world in a way that the TV show might not have the time or the budget to do, and we're different villains that the TV show isn't going to explore."
To ensure that his Adventures are in sync with the TV show, Gates is working closely with the showrunners of the CBS superhero drama. "Andrew Kreisberg and Ali Adler have been excellent in helping to steer the ship of the comic, just as they're steering the show," he says."They've really great to work with. I've gone up to their offices, I've met with their writers. We all want to be on the same page and deliver great stories within that world."
Not that Gates needs much introduction to the character. He wrote DC's main Supergirl title from 2008-2011. "For me, she is still the same character that she was back then," he says. "She's a positive force against a very dark and cynical world."
In Adventures of Supergirl, a mysterious villain is targeting Kara in all aspects of her life. "Someone has information about who she is, what she's doing, and goes after her in her personal life, her work life and her Supergirl life." Among the pawns this villain uses are a series of classic DC Comics rogues, including Rampage (as seen in the preview panels from the first chapter, below), Psi and Vril Dox. All the main characters from the TV series will appear in the story, but Gates is mum on whether we might see Kara's famous cousin. "If you watch the show you understand how Superman operates within the confines of this world," is all he will tease.
Adventures of Supergirl's cover art is being created by Cat Staggs (who handled the gorgeous covers for the Smallville Season 11 digital comic as well), while a rotating team of artists will cover the interior pages, including Bengal (who drew the first chapter), Jonboy Meyers, Emanuela Lupacchino and Emma Vieceli.
New chapters will be released biweekly on Mondays, available via the DC Comics App, readdcentertainment.com, iBooks, comixology.com, Google Play, Kindle Store, Nook Store, and iVerse ComicsPlus. All 13 chapters will collected in a print edition coming later this year.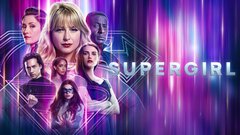 Powered by