'Supergirl's Melissa Benoist: 'It's Impossible Not to Feel Strong and Brave' (VIDEO)
https://player.waywire.com/?id=WRFYH21ZMXX73S8J
Doomed planet. Desperate scientists. Last hope. Kindly couple. While these words from the All-Star DC Comics line might describe Superman, they also apply to his cousin, Kara Zor-El (aka. Supergirl). After Kara is sent away from an exploding Krypton, only to arrive on Earth years later, she's adopted by two scientists, Jeremiah and Eliza Danvers. And despite trying to hide her powers, she finally embraces them to protect her beloved National City.
For Melissa Benoist, who plays the titular Supergirl in CBS's new show, the appeal of playing such an endearing (and enduring) character is the feeling of hope. "I love her optimism and her mission in this life, to help people and do good," she shared.
RELATED: Melissa Benoist Is Ready for Takeoff as Supergirl | A Who's Who of the Supergirl Squad
Also, wearing the costume was a life-changing experience for Benoist, akin to how her fictional counterpart feels suiting up. "The first time I put the costume on, it definitely felt like this transformation, like something inside of me clicked," she revealed. "It's kind of impossible not to feel strong and brave and all those superhero things when you put this [suit] on."
Watch the video above to learn more about Benoist and find out the superpower she would want.
Supergirl, Series premiere, Monday, Oct. 26, 8:30/7:30c, CBS | Timeslot premiere: Monday, Nov. 2, 8/7c
---
Questions? Ask Critic Matt Roush!
TV critic (and occasional TV therapist) Matt Roush answers viewer questions and concerns in his Ask Matt column each week. Wondering about plots, characters and twists on your fave shows? Submit your query to Matt via the form below: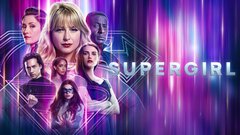 Powered by