Sneak Peek: Bristol Cove's 'Siren' May Be in Hot Water (VIDEO)
Were you one of the 1.54 million viewers who answered the call of the Siren last week? If you were hooked by the two-hour opener—Freeform's splashiest premiere in two years—wait until you see what ferocious mermaid Ryn (Eline Powell) is up to this week.
Turns out, you can't just hit dry land, kill a couple folks, and swim off like nothing happened. In an exclusive clip from "Interview with the Mermaid," Bristol Cove's resident mermaid apologist Helen (Rena Owen) warns Ben (Alex Roe) and Maddie (Fola Evans-Akingbola) that Ryn's enigmatic nocturnal activities are cause for concern (as is her cluelessness about how lamps work).
See Also
The mermaid drama premieres March 29.
But before Helen's words can sink in, the pair drops some intel of their own about a disturbing new tragedy and just who may have their eyes on the new girl in town!
So do we think Ryn is really a killer or is she just a misunderstood mer-person? Watch the full sneak peek below:
Siren, Thursdays, 8/7c, Freeform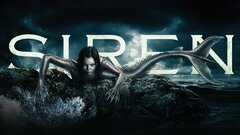 Siren
where to stream
Powered by